LIO: A modular audio system you can upgrade and evolve, from Vinnie Rossi.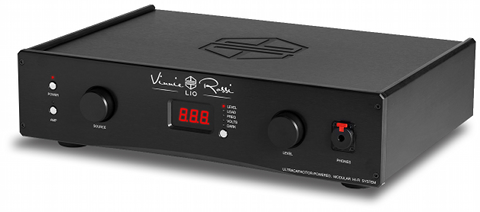 Source: Official website, Last Accessed: 2015/12/01
LIO is a modular audio system you can shape, upgrade and evolve to fulfill your changing audio needs. Available modules include a tube preamplifier, DAC, phono stage, headphone amplifier and, although there are four ready to buy components including the full-featured LIO Deluxe, you can always make your own custom, long-term solution!
The four available components are the LIO Integrated amplifier, an ultra-quiet hybrid tube/solid-state integrated amplifier that can drive even difficult speaker loads, the LIO Preamplifier, featuring LIO's patent-pending ultra capacitor low noise power supply design along with a tube stage, the LIO headphone amplifier and, finally, the LIO Deluxe, a component which includes line preamp, phono preamp, DSD/PCM DAC and a MOSFET power amplifier. If any of the pre-configured LIO's doesn't have the combination of features and functions that perfectly match your audio needs, there is an online configuration tool to chose and order another combination of modules.
Each module is connected to other modules and LIO's power supply via a motherboard PCB that serves as a backplane to carefully route audio signal and power traces optimally. These signal and power paths are extremely short (just a few inches – not meters) to avoid picking up noise from external devices.
The base for a LIO component is the chassis with the PURE-DC-4EVR ultracapacitor power supply, DuPont Corian front and side panels, knobs and top in the colors of the user's choice, wireless control module (allows to control LIO via a smart phone or tablet with LIO app), remote control handset, outputs module and external power adapter. At least one of the following modules must be added to make LIO a functional component: Phonostage, DSD/PCM DAC, MOSFET Amp, Headphone Amp.
LIO's internal power supply uses Vinnie Rossi's all-new, revolutionary and patent-pending "PURE DC-4-EVR" technology that employs ultracapacitor banks in place of conventional AC power or batteries. According to the details published, while one bank of ultracapacitors are feeding pure DC current to the audio circuits the other bank is charging. The audio circuitry is never connected to the charging ultracapacitor bank and is 100% isolated from the AC mains at all times, the company says. There are no transformers inside the chassis that could induce hum and noise. Every module has its own dedicated, low-noise linear voltage regulation stage fed by the clean, isolated ultracapacitor bank and all modules are isolated from each other via their own dedicated linear regulators and filtering. LIO's power grounds, analog grounds, and digital grounds are all isolated from each other and star grounded directly to the aluminum chassis. Vinnie Rossi components are handcrafted in the USA and backed with a 10-year warranty and industry-leading customer service.
For more information: http://vinnierossi.com/