Yamaha MusicCast unites Hi-Fi and Home Theater with wireless multi-room simplicity.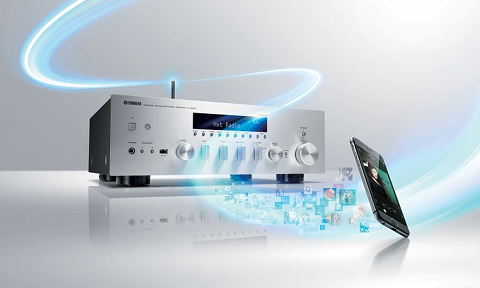 Source: Press Release, Last Accessed: 2015/08/20
Yamaha's MusicCast is a new way to bring music to every room in a home wirelessly with control provided by a simple app. Designed to easily work with an existing home Wi-Fi network, MusicCast offers access to a huge range of audio content from virtually any source. These include streaming services, Internet radio channels, digital music libraries, Bluetooth devices, and even external sources connected to MusicCast products, such as TV set-top boxes, Blu-ray Disc players and turntables. By year end, Yamaha will offer over 20 MusicCast enabled products spanning a broad array of categories including AV receivers, wireless speakers, sound bars, Hi-Fi components and powered monitor speakers.
All MusicCast products support Bluetooth playback, which allows users to listen to any content played on the system via their mobile device. Alternatively, a MusicCast device can output a Bluetooth stream, allowing transmission to Bluetooth speakers or headphones. MusicCast also supports wireless playback of high-resolution audio files for a true high-fidelity listening experience with exceptional sound realism and detail.
"MusicCast is the wireless multiroom audio system for those who want more than just background music," said Bob Goedken, general manager, AV Division, Yamaha Corporation of America."Now you can build the ultimate home theater or Hi-Fi system in your main entertainment room and expand it easily with wireless speakers, sound bars, or additional receivers in other rooms, like a kitchen or bedroom, with a single app to control it all. Or you can start with a single wireless speaker and expand over time. No other system provides access to all your content and such a wide range of listening experiences."
The free MusicCast app lets users browse content and play it back in each room of a home or link rooms together. With its unique personalization features, the user can choose from pre-loaded room images or change the color of buttons to represent each room in the home, or even take pictures of their own home and assign the images to each button. The content source buttons can also be customized to rename, remove or reorder selections for easier operation.
MusicCast includes Pandora, Spotify Connect, Rhapsody and SiriusXM Internet Radio streaming services, as well as thousands of free local and international Internet radio stations. All MusicCast products support Bluetooth playback, so virtually any streaming service can be accessed via Bluetooth from a mobile device.
The app provides easy browsing and playback of all music libraries on network-connected mobile devices, computers and storage devices including USB memory sticks. It also provides access to external sources connected to MusicCast products; content from TV set-top boxes, gaming consoles, CD and Blu-ray Disc players and even turntables can be played in any room. MusicCast can also select terrestrial AM/FM radio stations for playback throughout the home when linked to a tuner-enabled MusicCast device. Both Internet radio and terrestrial radio stations can be saved as "Favorites" for quick in-app recall.
Unlike other wireless systems on the market today, MusicCast supports true high-resolution audio formats to deliver more accurate reproduction of sonic details, presence and atmosphere, the company says. MusicCast components are compatible with Apple Lossless (ALAC) up to 24/96, as well as FLAC, AIFF and WAV files up to 24/192. Most MusicCast models also support single-device playback of DSD streams up to 5.6 MHz.
For more information: http://www.yamaha.com/