Zesto Audio unveiled the Eros 300 monoblock power amps.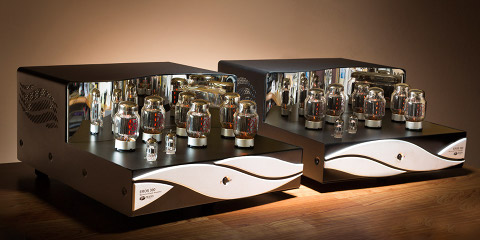 Source: Press Release, Last Accessed: 2015/09/21
Zesto Audio announced the launch of their newest product, the ErOS 300 monoblock amplifier. In development for more than 3 years and over 79 circuit revisions later, the Eros 300 is ready for prime time and George Counnas, president of Zesto Audio acknowledges that "there is an inherent conflict in good amplifier design because you want as much power as possible and yet you need it to finesse the most delicate passages of your music. The real design challenge is not finding a balance or compromise, but for it to be both powerful and musical".
The Eros 300 features six KT88 and two 12AU7 tubes to produce 150 Watts, with a Class A power stage. Counnas uses an Ultra Linear push-pull topology and a choke based power supply incorporating a custom toroidal power transformer. According to Zesto, Class A has less cross-over distortion and therefore is more musical. The Eros 300 features an auto biasing circuit, so it is easy to change the tubes without need of any adjustment.
For more information: http://www.zestoaudio.com/
---