Analogy Records and Natural Sound Live performance at Milano Hi-Fidelity.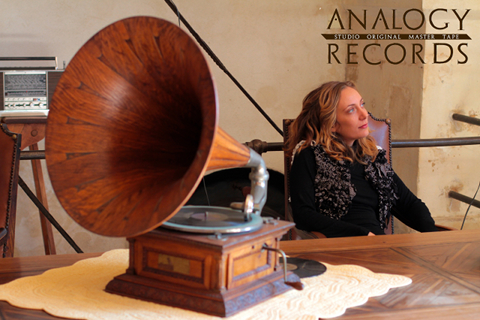 Source: Press Release, Last Accessed: 2016/03/22
After the great success of the Warsaw Audio Show, singer, composer and author Andrea Celeste, leading artist of the audiophile magnetic tape label Analogy Records, will be guest of Natural Sound's room to the next Milano Hi-Fidelity 2016, on Saturday, April 2.
In an exciting concert, the singer will perform live, demonstrating the qualities of Ubiq speakers Model One, the FM Acoustics electronics and Faber's Cables power cables, while the source of the music will be a Studer A810 tape recorder.
Andrea Celeste will present her new album Kaleidoscope, already available on limited and numbered CD edition and, upcoming, on magnetic tape from Analogy Records. Kaleidoscope is Andrea Celeste's fifth studio album, produced by Roberto Vigo for Analogy Records and recorded by legendary producer and sound engineer Al Schmitt (Capitol Studio, Los Angeles). All the tracks were written with by Andrea Celeste and Italian bassist Massimo Trigona, except for "Il Mio Mondo", Italian cover of Umberto Bindi's international hit "You're My World" and "Eri Con Me", written with Italian singer-songwriter Karen Ciaccia. The concept behind this album is inspired by a kaleidoscopic vision of songwriting which led to a highly emotional work supported by world music, jazz and acoustic pop sounds.
"Mezmerizing, powerful, stylish" is how the voice of this young singer-songwriter has been described by critics. Born in 1986, Andrea Celeste is a Tuscan – yet Ligurian "by adoption" - singer and songwriter. When she was eleven, she began studying classical singing and piano with Maestro Vittorio Scali. At the same time she developed a passion for Afro-American music, especially for Gospel and Jazz, and began to sing at several recording studios all over the Northern Italy, where she had the chance to experiment with different musical genres and develop her versatility.
Andrea Celeste won both the public's, and the critics' heart with her albums "My Reflection" (Zerodieci/Shake Records 2008), Enter Eyes (Zerodieci/Incipit 2009) and "Something Amazing" (Zerodieci 2012), including original songs, composed by her, as well as unique renditions and arrangements of famous international hits, mixing pop, soul and jazz.
For more information: http://www.analogyrecords.org/, Milano Hi-Fidelity 2016