Audio Research rounds out Foundation Series with new VT 80 power amplifier.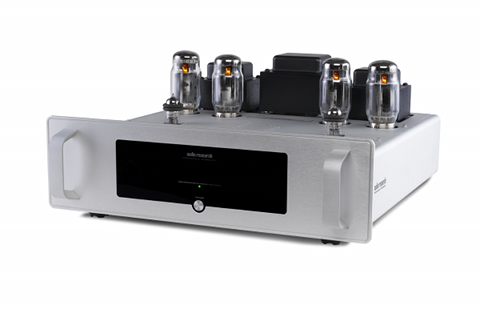 Source: Press Release, Last Accessed: 2016/11/07
Audio Research recently unveiled the VT80 vacuum-tube power amplifier to its Foundation Series. Combining an enticing new aesthetic with worry-free operation and great performance, the new amp is a vacuum-tube design that will make Audio Research accessible to a larger group of music lovers.
With a beautiful new look, flexible connection options, and important new features, the primary goal of the VT80 is to provide thrilling audio performance, the company says. The core of the VT80 is adapted from the Reference 75, including the same power and output transformers, a similar circuit topology, and many of the same parts. According to the press release, the 75 watt-per-channel VT80 offers startling dynamics, powerful bass, and natural clarity combined with a very holographic presentation. The open architecture of its extruded metal chassis provides beauty and a rigid structure from which two 6H30 driver tubes and four KT120 output tubes emerge. Available in both natural and black anodized finishes, the low profile front panel contains a black inlay that matches other Foundation Series products, along with a power switch, flanked by two handles.
The rear panel contains both single-ended RCA and balanced XLR input connectors allowing the VT80 to be integrated into virtually any system. In addition to a tube hour meter, there is a 12V trigger and an RS232 port to remotely control operation. 4- and 8-ohm brass and gold binding posts provide secure speaker connections. There is also a switch to engage or defeat an auto-off function, triggered when no input signal is encountered after four hours.
At the heart of the VT80 are two important features never offered previously by Audio Research. The first is a proprietary auto-bias circuit developed entirely in-house by Audio Research's chief analog engineer. Once the tubes are installed and the unit is powered-up, the VT80 will automatically adjust bias for each output tube. The circuit adjusts for tube wear or fluctuations in the power in real time and does not compromise performance. The VT80 will also work with different types of output tubes, including 6550, KT88, KT90, KT120 or KT150. The second new feature includes individual fusing of each output tube. In case of a fault condition, an easily-replaceable fuse blows, providing worry-free operation.
For more information: http://www.audioresearch.com/
---