HD6 Premium: Audioengine's new complete music system.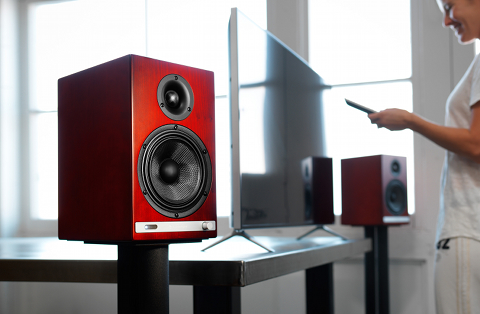 Source: Press Release, Last Accessed: 2015/11/12
Audioengine introduced the HD6 Premium powered loudspeaker system. More than just an active loudspeaker, the HD6 is a complete audio system with all the connections you'll need to listen to your music.
"As we celebrate our tenth year," says Brady Bargenquast, co-founder of Audioengine, "HD6 represents a decade's worth of work. We've added some stellar features from our best-selling products, carefully blended in our signature sound, and took a risk with the retro cabinet design - all of which we're hoping will make HD6 the go-to music system for many years to come."
Featuring built-in class A/B monoblock power amplifiers that really pack a punch as well as analog and digital inputs including aptX Bluetooth and optical, the HD6 is super-easy to use and designed for the way people listen to music today. Dave Evans, co-founder and chief technologist adds, "We started with our tried-and-true amplifier design and added an optical input from the D1 DAC. We also included our Advanced Bluetooth and 24-bit upsampling circuitry from the B1 Bluetooth Receiver, making the HD6 our most versatile speaker system yet."
Stream TIDAL, Spotify, Pandora, YouTube, iTunes - or any music service or media player wirelessly from your smartphone, tablet or computer. Also easily connect your TV system, Sonos Connect, network music player, or any other device that has optical out. And vinyl lovers can also add their favorite turntable to one of the preamp inputs. No matter how you connect and listen, HD6 has you covered. The HD6 is Audioengine's latest statement on high-quality and highly-affordable audio. The all-new woofers have aluminum frames allowing the lower-end to really perform, the company says. Also new are the tweeters, which have been upgraded for smoother, more extended highs and incredible imaging.
The furniture-grade wood veneers and detachable magnetic grills give the HD6 a look and feel of old-school design elegance that blends with any decor. They are available in Satin Black for your stealth system as well as Walnut and Cherry wood finishes if you want to really show them off.
The Audioengine HD6 Premium powered loudspeaker system has a retail price of $749 per pair. The HD6 is available now and can be purchased from over 400 authorized worldwide resellers or online direct.
For more information: http://audioengineusa.com/
---