M-DAC+: The best D/A Converter just got better, Audiolab says…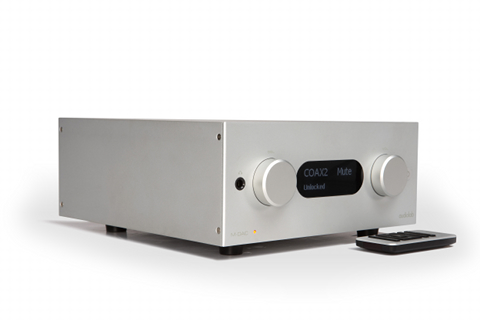 Source: Press Release, Last Accessed: 2016/04/20
Audiolab upgraded their successful M-DAC and the new M-DAC+ will sell alongside the classic model, sporting a number of enhancements both inside and out in return for an additional £200 (about €260).
Like the M-DAC, the new M-DAC+ is a high-performance, multipurpose audio DAC for home use, designed to sit on a desk or table, or integrate into a Hi-Fi system. It incorporates a highly specified, audiophile- quality digital preamp and Class A output stage for connection to a power amp and speakers (the output can be fixed for use with an existing preamp or integrated amp). A high-quality headphone output is also provided. The converter is built around the ESS Sabre32 9018, a 32-bit DAC chip-set that continues to have a reputation as the finest available for stereo applications. This is surrounded by exceptionally well specified circuitry that includes a proprietary, discrete master clock to minimize jitter and a JFET Class A output stage.
Compared to the classic M-DAC, the M-DAC+ features a new chassis, with the OLED display window now centrally positioned and rounded at the sides, in keeping with Audiolab's recently launched 8300 Series components. The display is flanked by two rotary controls, one to adjust volume and the other to select settings, replacing the buttons found on the classic M-DAC. The M-DAC+ now processes audio data up to 32- it/384kHz via USB and, also, supports DSD files, offering compatibility with DSD64, DSD128 and DSD256 streams. Like the classic M-DAC, the M- AC+ features user selectable filters for optimal listening and measurement modes, in addition to more conventional types for easy comparison. The M-DAC+ inherits seven filter settings from the M-DAC for PCM files and adds four more for DSD playback. Another important change relates to the power supply, which has been upgraded and is now fully incorporated within the M-DAC+'s chassis (hence its slightly taller and deeper case compared to the classic M-DAC). A precision-wound toroidal transformer uses multiple windings to feed separate analogue and digital rectification stages. From there, multiple power supply sections feed the necessary voltages to each area of the DAC, keeping any crossover interference to a minimum, the company says.
Around the back, digital input options have been expanded with an AES/EBU socket and an additional USB Type A input –ideal for connecting Apple devices– alongside the existing USB Type B connection. These options join a full complement of inputs/outputs retained from the classic M-DAC: 2x coaxial digital inputs; 2x optical digital inputs; 1x coaxial digital output; 1x optical digital output; single-ended RCA and balanced XLR analogue outputs; 12V trigger loop.
The Audiolab M-DAC+ comes with a redesigned remote control and is available in black or silver, at an RRP of £799.95 (about €1040,-). The classic M-DAC continues at £599.95 (about €780,-).
For more information: http://www.audiolab.co.uk/
---