M-ONE: Audiolab's "M" series DAC/Integrated Amplifier.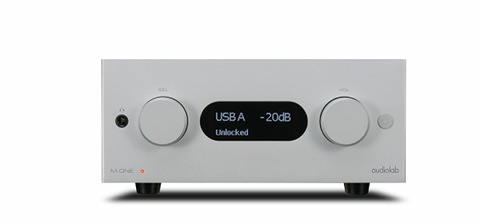 Source: Press Release, Last Accessed: 2016/09/09
Audiolab's M-ONE compact integrated amplifier is the latest addition to the M-DAC family, harnessing the company's acclaimed DAC and amp tech in a single yet conveniently compact and high quality single-box sonic solution.
According to the press release, "the M-ONE takes Audiolab's multi award-winning DAC technology, adds high-performance pre/power amp circuitry and stirs in a range of connectivity options including aptX Bluetooth to deliver a delicious sonic banquet, whatever the chosen musical menu." Outwardly, the M-ONE is almost identical to the M-DAC+, Audiolab's flagship DAC component. It sports the same compact aluminum case, small enough to sit unobtrusively on a desk, table or shelf, with the same central OLED display and elegant dual rotary control scheme. But while standalone DACs like the M-DAC+require a separate power amp to drive a pair of speakers, the M-ONE packs stereo power amplification of suitably high quality, plus preamp facilities for analogue sources as well as digital, into its diminutive chassis.
The M-ONE shares the same core D/A conversion technology, based around the ES9018 Sabre32 Reference chip family from ESS Technology – in this case, the recently introduced two-channel ES9018K2M, little brother to the flagship eight-channel ES9018 chip found in the M-DAC+. It also features the same patented 32-bit HyperStream DAC architecture and Time Domain Jitter Eliminator, unique to the Sabre32 Reference family, surrounded by Audiolab's signature circuitry to make the most of this chip's exemplary performance. The M-ONE's DAC section is equipped to process PCM audio data up to 32-bit/384kHz via USB and supports DSD files, offering compatibility with DSD64, DSD128 and DSD256. In line with Audiolab's standalone DACs, the M-ONE offers a range of user-selectable digital filters to fine tune sound from digital sources according to taste, three for PCM files and four for DSD.
The preamp section mixes minimalist design with high-quality components, ensuring a short, direct signal path to maintain sonic purity. Volume is digitally controlled in the analogue domain, outputting directly to the Class AB power amplifier, which delivers an output of 40W per channel into 8 ohms. A low-noise linear power supply benefits all circuits from the DAC to the power amp, featuring a shielded, precision-wound toroidal transformer and multiple power supply sections to keep crossover interference to a minimum. In addition to the main power amp stage, the M-ONE shares the same high-quality headphone amp featured in the M-DAC and M-DAC+.
The M-ONE includes two USB inputs – a Type B socket (ideal for PC/Mac connectivity) and a Type A socket (useful for Apple iOS device docking and playback). Both USB inputs are compatible with PCM data up to32-bit/384kHz, as well as DSD64/128/256, and both are asynchronous to minimize jitter. Other digital devices can be connected via optical or coaxial cables; one input of each type is supplied, supporting PCM data up to 32-bit/192kHz.These are accompanied by two RCA phono inputs for analogue source components, while those who enjoy the freedom of wireless connectivity can pair smartphones, tablets and computers via Bluetooth, with support for the sonically superior aptX codec.
For more information: http://www.audiolab.co.uk/