AudioQuest DragonFly Black & DragonFly Red: Beautiful music from any computer or mobile device.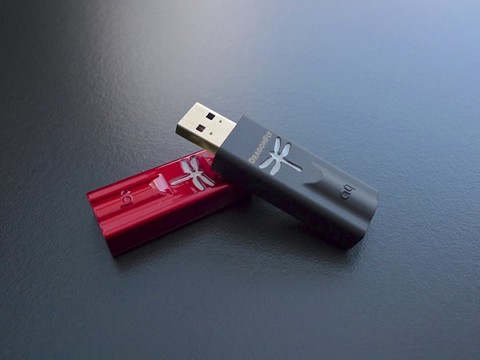 Source: Press Release, Last Accessed: 2016/04/05
While the original DragonFly defined the market for micro-DACs, its USB power draw made it compatible with computers only. Now, AudioQuest offers the Black and Red DragonFly models that could be reliably used with Apple and Android smartphones and tablets, —both scheduled for immediate shipping.
Designer Gordon Rankin worked alongside Microchip Technology to develop a new high-performance, full-speed USB micro-controller solution that delivers improved signal-to-noise ratio and significantly lower power consumption. Drawing 77% less current than the previous micro-controller, the new Microchip PIC32MX allows DragonFly Black and Red to be successfully used with Apple and Android smartphones and tablets.
For greater overall performance, the new DragonFly models also incorporate improved 32-bit ESS Sabre DAC chips—the 9010 in Black and the higher-performance 9016 in Red—both of which include minimum-phase filtering for naturally detailed, dynamic sound, the company says. While DragonFly Black uses the same high-quality headphone amp and analog volume control found in the original model, DragonFly Red includes the latest ESS headphone amp and a bit-perfect digital volume control that resides on the 9016 DAC chip itself—a sophisticated implementation that ensures maximum fidelity, dynamic contrast, and signal-to-noise ratio.
DragonFly Black will output 1.2 volts—enough power to successfully drive all preamplifier input circuits and a wide range of today's moderate- to high-efficiency headphones. Meanwhile, with its higher 2.1-volt output, DragonFly Red will be compatible with a wider range of headphones, including power-hungry, low-efficiency models.
According to the information published, the new DragonFlys will be software upgradeable through a complimentary Windows or OS X desktop application. As new developments arise in music player applications, streaming protocols, or other associated software, DragonFly users will be able to incorporate those updates to their existing devices.
For use with Apple iOS devices, Apple's Lightning-to-USB Camera Adaptor is required; for use with Android devices, a Made for Android (OTG) adapter, such as AudioQuest's DragonTail For Android Devices (shipping in May), is required.
Prices will be €199 for the DragonFly Red and €99 for the DragonFly Black.
For more information: http://www.audioquest.com/
---