Aumeo: The world's first tailored audio device for music, film and voice calls.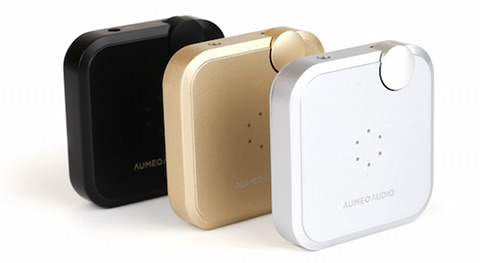 Source: Press Release, Last Accessed: 2016/01/06
Aumeo Audio introduced the world's first tailored audio device, Aumeo, at this year's CES. Aumeo takes audio personalization to a whole new level by customizing sound to a user's hearing sensitivity. With Aumeo, the company says, users can enjoy audio experiences like never before for music, film and even voice calls.
"We are filling a gap in the audio market. Audio consumers have been raising their standards in the past few years, but we still live in a one-size-fits-all world of where audio products don't take your unique hearing into account," CEO of Cameo Audio Paul Lee explains. "It's a medical fact: we all hear differently and we are sensitive to different sounds. If your audio profile is not taken into account, you might not hear certain details in your music clearly and would subconsciously turn up the volume to compensate, resulting in a subpar audio experience that damages your ears."
According to the press release, Aumeo was designed with an individual's ears in mind, providing audio personalization for a lifetime of sound clarity while preventing hearing damage. The device comes with a companion app for iOS and Android. Users can setup their device through the app and create their unique audio profiles using a series of tones. The audio profiles will be stored on the device and users can connect it to their favorite headphones and media player, such as smartphones, computers, TVs and hifi systems. The device will provide a tailored audio experience that enables crisper, truer sound while reducing listening strain and ear-damaging volumes, allowing users to enjoy music longer with less fatigue.
Aumeo was successfully funded in July 2015 on crowdfunding platform Indiegogo to the tune of over US$250,000—641 percent of its original goal of US$40,000. Aumeo Audio has close to 2,500 enthusiastic backers. Aumeo and its companion app for personalized audio profiles are now available on aumeoaudio.com at US$199.
For more information: http://www.aumeoaudio.com/
---