Auralic debuted New Altair, a high-quality streaming DAC.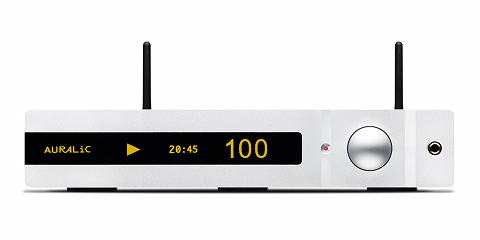 Source: Press Release, Last Accessed: 2016/04/12
Auralic introduced their new Altair Streaming DAC, a component which can be used as an easy-to-use Home Music Center with more than 15 input sources including streaming inputs such us Network Shared Folder (NAS), USB drive, Internal music storage (optional), uPnP/DLNA media server, TIDAL and Qobuz streaming, Internet Radio, AirPlay, Bluetooth, Songcast and RoonReady, digital inputs like AES/EBU, Coaxial, Toslink, USB device to computer, USB host for storage and DAC and wired/wireless networking as well, including RJ45 Gigabit Ethernet and 802.11b/g/n/ac Tri-Band WiFi.
The Altair Streaming DAC utilizes Auralic's award-winning Lightning technology. Launched in 2014, Lightning is the audio industry's first streaming technology that supports DXD and Quad-Rate DSD playback through a WiFi network. It also offers several new and advanced features such as Gapless Playback, On-Device Playlist and Multiple-Room functions, as part of Auralic's ongoing program of offering regular upgrades that download in the background.
Memory Playback, the latest feature added to to the Lightning streaming technology, allows the Altair to fetch and cache the entire track in its memory or system storage in advance to improve the sound quality, and -also- play locally without the need of network data transfer. Using Lightning DS, you can also stream Tidal, Qobuz and listen to Internet Radio at any time. Altair's AirPlay, Songcast and Bluetooth functions provide alternative ways to stream your favorite music from Apple Music, Spotify and other service providers through your smartphone or computer.
Altair's streaming function, operated by Auralic's Lightning DS control App, is available on iOS platforms right now, with Mac and Windows versions in development, the company says. It is also compatible with other 3rd party OpenHome or UPnP control software for playback. Altair also works as a RoonReady endpoint to use with Roon software, bringing you a new way to discover and listen to music. The unit's other inputs include AES/EBU, Coaxial and Toslink, and a USB connection to a computer working as a standalone USB DAC.
When purchasing an Altair from a dealer or Auralic, you can add an optional 2.5-inch HDD or SSD for internal music storage, turning the Altair into a full function Music Server. Or, you can always buy an Altair and install the storage yourself. Cosmetically, the new Altair shares the same size enclosure as the Vega DAC, including a 512x64 pixels OLED Display (although the content is different from the VEGA). A headphone jack is located on the front panel.
The Altair, with all its top quality features and performance, has a MSRP of $1,899. Shipment will commence in June.
For more information: http://www.auralic.com/