All new QuietComfort 35 and QuietControl 30 from Bose, try to redefine Noise Cancellation.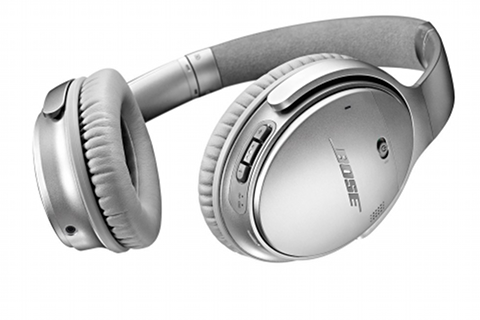 Source: Press Release, Last Accessed: 2016/06/06
Bose announced the QuietComfort 35 around-ear headphones and the QuietControl 30 in-ear headphones, both shattering the limitations of existing wireless noise canceling headphones with an entirely new experience for traveling, commuting, creating, studying, or relaxing. According to the press release, the QC35 lets you tune out completely with the same remarkable silence of Bose's wired QuietComfort headphones. And the QC30 adds something new -- a breakthrough feature that puts noise control in your hands, letting you adjust how much surrounding sound you block out or let in. Against a backdrop of quiet, the new QC35 and QC30 reproduce music with stunning clarity at any volume. Both headphones include NFC for touch-to-pair convenience, super-intuitive controls for music and calls, voice prompts for key information including setup, caller ID and battery life, and the free Bose Connect app for even more functionality.
With microphones inside and outside the ear-cups, the QC35 senses, measures and sends unwanted sounds to two proprietary digital electronic chips --one for each ear-- which respond with a precise, equal and opposite signal in less than a fraction of a millisecond. The result is to stay in silence, or hear the music more clearly with a new EQ that balances sound at every volume, for any genre. The QC35 has up to 20 hours of battery life from a rechargeable lithium-ion battery, lasting longer than a flight from New York to Hong Kong. Simple buttons are on the right ear-cup: on/off, music volume, play/pause, and answer/end calls.
The QC30 headphones feature tiny ear buds that integrate a total of six microphones, and a sleek neckband that houses the rest of the advanced electronics system for take-anywhere performance and controllable noise cancellation. The user can turn noise cancellation up or down, not on or off, and it adapts to the desired level without changing the music volume. The QC30 uses a new EQ customized for its size and design. The QC30 has up to 10 hours of battery life from a rechargeable lithium-ion battery, lasting as long as a fully-charged phone or tablet. Simple buttons are on an in-line remote: music volume, play/pause, answer/end calls, and noise control.
The free Bose Connect app gives each Bose wireless headphone more functionality. Owners can connect and switch between Bluetooth devices, update software, personalize their voice prompt language and more. For the QC30, the Bose Connect app will include the controllable noise cancellation feature to increase awareness or decrease noise.
The QuietComfort 35 headphones (available beginning June 5, 2016 for $349.95) come in Black and Silver; the QuietControl 30 headphones (available beginning September 2016 for $299.95) come in Black.
For more information: http://www.bose.com/