Computer Audio Design's 1543 MKII DAC.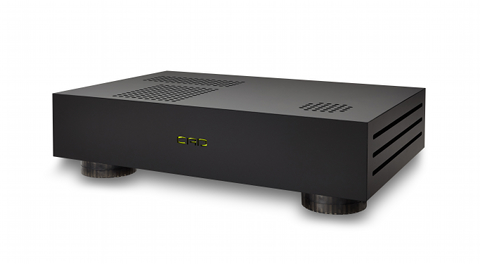 Source: Press Release, Last Accessed: 2016/03/02
Computer Audio Design has announced a refit to its unique CAD 1543 DAC, now using proprietary EMI/RFI reduction materials, improved DAC circuit boards, single-crystal UP-OCC internal wiring and refined power supply filtering, to create the CAD 1543 MKII DAC.
According to the press release, the DAC retains the key technologies that contribute to a performance lifted far above normal expectations for digital audio, leading with the innovative use of prized vintage resistor-ladder DAC chip-sets, and the daring removal of the standard digital interpolation filter. CAD is one of a handful of digital audio companies offering resistor-ladder DAC technology, along with no oversampling and no filtering. The company believes that this approach offers a distinctively different sound than most digital audio products on the market today – a sound that is tangibly closer to the original performance.
The CAD 1543 MKII DAC takes its name from the application of an increasingly rare resistor ladder converter chip, the Philips TDA1543/N2, with its selected 16 devices now mounted on a revised four-layer circuit board. This new layout minimizes intrinsic noise, optimizing the chips' specifications to now allow native conversion of 192 kHz PCM audio. And where almost all conventional modern D-A converters employ oversampling techniques and a digital interpolation filter, the CAD DAC adopts the non-oversampling (NOS) approach to protect precious timing resolution. With no filter to ring and smear the fundamental timing of impulsive data – the shape of natural music – the 1543 MKII brings to life both the subtle and macro dynamics of recorded sound, CAD says.
The hyper-minimalist design is engineered with the fewest number of switches and connectors between mains plug and output sockets. It features a single USB 2.0 input that galvanically isolates the 16 TDA1543 chips from a connected PC. The analogue output sees a single pair of low-mass pure copper RCA phono sockets wired directly to the chips through a passive I/V stage. The summed output of paralleled multi-bit converter chips means there is no need for additional signal amplification or buffering, thereby removing unnecessary signal stages. Signal wiring has been updated to single-crystal OCC (Ohno Continuous Casting) copper, custom manufactured to CAD specifications.
MK II's casework retains its laser-cut 10 mm-thick acrylic construction – available in black as standard or other colors to special order– and is now supplemented with internal RFI/EMI materials to reduce the effects of high-frequency interference on the circuit boards and their ground planes. Further fighting the insidious effects of EMI/RFI, Computer Audio Design has redesigned the power conditioning at the unit's power input, helping minimize AC line noise from the DAC; as well as isolate neighboring audio components from any residual digital noise released by the DAC.
Owners of the original 1543 DAC can opt to have their units refitted to full MKII specification at a cost.
For more information: http://www.computeraudiodesign.com/
---