Cary Audio unveiled the first product of the new Lifestyle Series, the AiOS.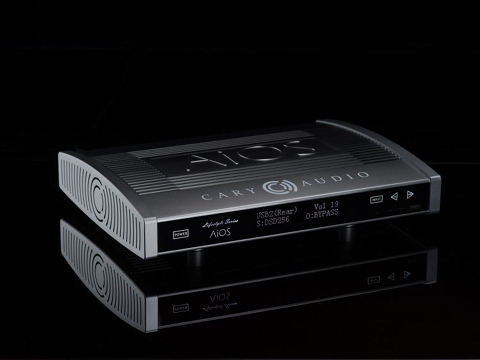 Source: Press Release, Last Accessed: 2016/11/15
AiOS (All-in-One-System) is a new kind of music system for a new generation of music lovers and audiophiles alike which, these days, have many more choices when it comes to how they listen to music. As a music system with 150 watts of Class AB power, AiOS combines sources and inputs designed around this new age, can connect to the home network (via Wi-Fi or Ethernet) and stream all the digital music stored on the networked computers or NAS drives with simple UPnP, DLNA, and SMB connectivity. Also, available through the home network connection are the Spotify and Tidal integrated internet music streaming services with others to follow.
For those that may find a home network connection too intimidating, AiOS allows the insertion of a SD Card into the front SD slot or the use of a USB flash drive or USB hard drive loaded with digital music files directly to AiOS' three USB-A inputs, all without a computer or network connection for direct playback! AiOS can connect to a smartphone or tablet using the latest Qualcomm aptX Bluetooth technology and, also, can send any of its selected sources to Bluetooth enabled headphones or speakers for a completely wireless music system.
AiOS is visually transformative and, with the touch of a button, can change its back-lit keys/buttons and center LCD display (together or individually) to six different preset colors including one custom color preset, or adjust any color as the user sees fit within the entire color spectrum. In addition to the all-aluminum Gunmetal Gray chassis and side panels (the standard finish), AiOS offers five additional side panel color options to ensure a perfect blend of sight to match any lifestyle and decor choices within any setting (Spring Green, Deep Plum, Cary Blue, Candy Red, and Champagne Gold). Finally, AiOS includes multiple analog and digital inputs and outputs, including a subwoofer output and a preamplifier.
For more information: http://www.caryaudio.com/
---