Hi-Fi Goes Portable with CEntrance's DACPortable.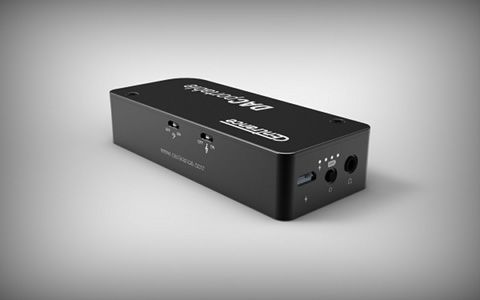 Source: Press Release, Last Accessed: 2016/03/15
CEntrance announced DACportable—the world's smallest, self-powered D/A converter and headphone amplifier. The hand-held device improves the sound of iPhones, Androids, Macs and PCs, and features musical sonic shaping.
According to the press release, by using a USB connection, DACportable extracts clean digital audio from your portable device, converts it to analog using high-end D/A conversion technology, and delivers pristine audiophile fidelity right to your ear. Additionally, the built-in EQ works in a subtle way to gently enhance the listening experience and provide better matching to your favorite headphones. The new product is a slimmer version of the Company's award-winning DACport, and has several enhancements including a built-in Lithium-Polymer battery and tone controls. The DACportable crowd funding campaign on Indiegogo exceeded the $50k funding goal in less than a week. "We love crowd-sourcing because our customers give us insightful feedback and help us shape the product to be the best," said Michael Goodman, Founder and CEO of CEntrance. "The entire device, including the intuitive digital volume control, can be operated with one hand, a request from travelers, and one important benefit of crowd-sourcing."
For more information: http://www.CEntrance.com/, Indiegogo page
---