New BP9000 bipolar loudspeaker series from Definitive Technology.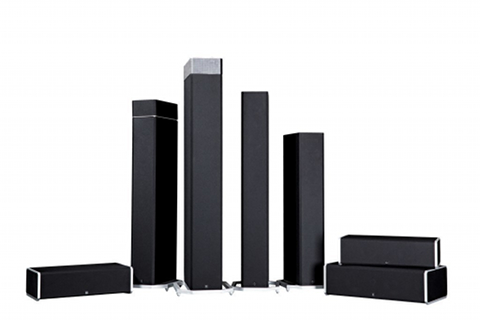 Source: Press Release, Last Accessed: 2016/05/10
Definitive Technology announced the launch of the BP9000 series loudspeakers—its 4th generation of Bipolar tower speakers, matching center channels, surrounds, and a height speaker module, paying homage to Definitive Technology's lineage of award-winning Bipolar speakers—which radiate sound from drivers placed on the front and back panels of the speaker—with a completely modified design and user experience that integrate powered subwoofers and the latest audio technologies. The new collection consists of the BP9020, BP9040, BP9060 and flagship BP9080X floor standing Bipolar tower speakers; the CS9040, CS9060 and CS9080 center channel speakers; the SR9040 and SR9080 surround speakers; and the A90 height speaker module supporting Dolby Atmos and DTS:X compatibility.
Conveying Definitive Technology's minimalist design philosophy, the BP9000 series is wrapped in premium materials such as brushed natural aluminum top plates that disguise the height module connector port, universally accepted acoustically transparent grille wraps, a totally inert resonance-free one-piece cabinet construction, and a cast aluminum base on each of the towers. The range features advanced audio reproduction technologies, including aluminum dome tweeters, an integrated powered subwoofer, the new Intelligent Bass Control technology, and the patented Forward-Focused Bipolar technology. Additionally, with the available Dolby Atmos and DTS:X A90 module that easily integrates into the BP9020, BP9040, BP9060 tower speakers, modern listeners will have the latest technology at their disposal for superior home theater performance. Dolby Atmos and DTS:X height functionality is built-into the BP9080X tower speaker.
Serving as the flagship member of the BP9000 series, the BP9080X floor standing tower speaker features a patented forward-focused Bipolar driver array that offer a balance between room-filling sound and a precise center image for an incredibly accurate, immersive sound stage, the company says. With integrated, powered 12-inch subwoofers and dual bass radiators, the BP9080X delivers impactful low-frequencies without the need for a separate subwoofer and offers Intelligent Bass Control that allows users to modulate deep bass up or down while simultaneously maintaining precise mid-range tonal balance. The BP9080X's three 5.25-inch mid-range drivers with patented Balanced Double Surround Sound technology improve driver excursion. Additionally, with two 1-inch aluminum dome tweeters for crystal-clear highs, an acoustically transparent grille, as well as an inert, resonance-free cabinet, listeners enjoy natural, accurate, yet powerful sound. The BP9080X also includes an integrated 2-way height speaker for Dolby Atmos and DTS:X use, that delivers object-oriented audio so listeners experience multidimensional sound for a home theater experience like never before.
Rounding out the BP9000 tower speaker options, the BP9020, BP9040 and BP9060 offer the same incredible performance as the BP9080X speaker. Each tower speaker features an integrated, powered 8-inch (BP9020 and 9040) or 10-inch (BP9060) subwoofer and dual-bass radiators, multiple 3.5-inch (BP9020) or 4.5-inch (BP9040 and BP9060) mid-range drivers and 1-inch aluminum dome tweeters for a perfectly balanced sound stage. All of these towers are also Dolby Atmos and DTS:X compatible, each with a hidden connector port that fits the universal A90 height speaker module (sold separately). Users simply remove the magnetically-sealed, acoustically treated aluminum top panel from the speaker and firmly align and place the A90 elevation speaker module atop the corresponding speaker to hear and feel multidimensional sound. Additionally, the BP9000 series tower speakers all include a cast aluminum base with precision cut, knurled carpet spikes and hard-floor glides for maximum speaker stability and a LED back-lit Definitive Technology logo for timeless design and sophistication.
For more information: http://www.definitivetech.com/