Denon launches first X Series AV Receivers with HEOS network technology inside.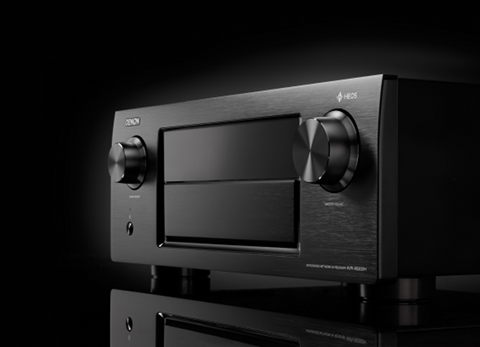 Source: Press Release, Last Accessed: 2016/08/30
Denon announced the first Denon Network AV Receivers with HEOS technology integration. Born from the company's highly acclaimed X Series line, the premium class AVR-X6300H and AVR-X4300H now truly become the heart of the home entertainment, by delivering best-in-class audio and video experiences to the whole house.
The AVR-X4300H comes with 9 amplifier stages, each rated at 200 Watts, ready to fire even big home cinemas with Dolby Atmos, DTS:X, or Auro 3D (optional, paid upgrade) sound. Most remarkably, the 9 channel amplification allows for setting up a 7.1.2 or 5.1.4 3D experience without the need of an external amplifier. With an external stereo amplifier the setup can get even extended to a 7.1.4 setup. If not in use for 3D audio, the integrated amplifiers can get assigned to drive another pair of speakers in a second and/or a third audio zone running the same or different source than the main room. All audio signals are handled by the famous Denon D.D.S.C-HD circuit (Dynamic Discrete Surround Circuit High Definition) and unique AL24 Processing Plus, supported by the use of high quality 192kHz/32bit D/A converters.
The AVR-X4300H comes with built-in Airplay and Bluetooth for music streaming from a smartphone, and Wi-Fi to connect to a home network. With HEOS inside, the user can stream from music services like Spotify, TuneIn Internet Radio, Deezer, TIDAL, SoundCloud and more. Standard resolution as well as high resolution audio formats including FLAC HD and DSD are supported. Further on, the user can listen to tracks directly from their phone, tablet or USB drive. All the features are controlled by the free HEOS app, installed on as many smartphones and tablets as needed.
With in total 8 HDMI 2.0a inputs (including one on the front) and 3 outputs, the AVR's video section is ready to take over full control of literally all modern devices such as Blu-ray players, media players, video cameras and more at the same time. It includes full compatibility with the latest HDCP 2.2 specification required for 4K Ultra HD copy-protected content. The AVR-X4300H further supports full rate 4K Ultra HD video along with 4:4:4 Pure Color sub-sampling, HDR and BT.2020 pass-through. And if that is not enough, the video processor is able to upconvert standard definition and high definition video sources to full rate 4K Ultra HD resolution, for the ultimate viewing experience.
Denon's top-of-the-range AVR-X6300H is their first AV Receiver with 11 amplifier stages, each rated at 205 Watts using a discrete monolithic amplifier design with custom made DHCT (Denon High Current Transistors).
The AVR-X6300H and AVR-X4300H will be available in October, both in black and premium-silver color.
For more information: http://www.denon.com/
---