Denon ushers in a new era in premium HiFi with their stereo duo PMA-2500NE and DCD-2500NE.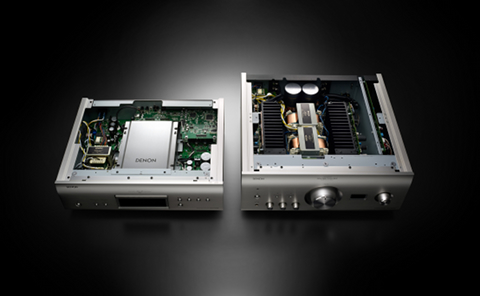 Source: Press Release, Last Accessed: 2016/01/16
With more than 100 years of company heritage, Denon has never stopped pushing the frontiers on classic 2-channel HiFi. The result is the company's new top of the range integrated amplifier with DAC mode, PMA-2500NE, and Super Audio CD Player DCD-2500NE. Both sum up all of the engineers' know-how and dedication, to deliver exceptional products supporting latest digital audio formats, for the most demanding HiFi enthusiast.
According to the press release, the performance of the PMA-2500NE goes well beyond that of Denon's previous PMA-2000 series, with its strict "Simple & Straight" circuit design philosophy for pure and unadulterated audio enjoyment. To achieve a balance between delicate details and vigor in sound, the PMA-2500NE employs Ultra High Current MOS (UHC-MOS) FETs, capable of producing ample current in a single push-pull configuration. The Precision Direct Mechanical Ground Construction suppresses vibration thus minimizing adverse influences on the output signal. The PMA-2500NE is equipped with two transformers that have been mounted facing opposite directions in a leakage canceling (LC) mount system to cancel mutual influences of magnetic flux, a source of noise, leaking from the transformers. The amplifier includes a phono preamplifier (MM/MC) and features an Analog Mode which allows to switch off all unused sections like the digital input circuitry or the low noise display for an unaltered audio reproduction.
Thanks to the rear USB-B input, music files up to 384 kHz/32 bits and even DSD files up to 11.2MHz stored on a computer can be played back, with source and sample rate indication easily read on the front panel, low noise OLED display. The asynchronous mode ensures that jitter is kept to a minimum, and a dedicated isolation around the USB-B input, avoiding external noise entering the sensitive audio circuitry, makes digital files sound as impeccable as possible. Before heading for the embedded high quality D/A converter, all digital signals are carefully treated by Advanced AL32 Processing Plus, the latest version of Denon's analogue waveform reproduction technology.
As the perfect companion, the DCD-2500NE SA-CD player features unique technologies and developments to strengthen rigidity and to reduce vibration, the great enemy of disc players, including the reference-class Advanced S.V.H. (Suppress Vibration Hybrid) disc drive mechanism with a newly developed pickup circuit, the company says. In addition to CD and Super Audio CD, the DCD can play DSD (2.8 MHz/5.6 MHz) files and high-resolution files up to 192 kHz/24 bits recorded on DVD-R/RW and DVD+R/RW discs. Music files with sampling frequencies of up to 48 kHz recorded on CD-R/RW discs can also be played.
Both products are already available at authorized Denon retailers in a Premium Silver color finish.
For more information: http://www.denon.com/
---