Audio gets immersive: Emotiva re-thinks the High-End market with the introduction of Emersa series.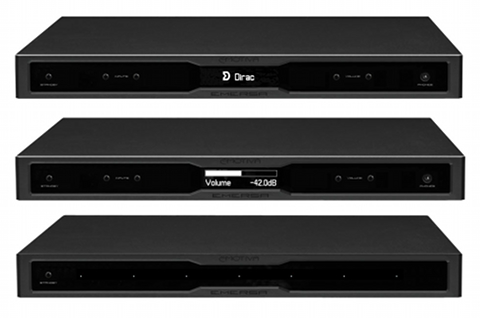 Source: Press Release, Last Accessed: 12/09/2015
Design and engineering elements shared across the Emersa line emphasize an elegant and slim chassis, bright, informative, easy to read white OLED displays, and the powerful yet easy to use operating system developed for Emotiva's flagship XMC-1 processor.
"Great audio performance should be experienced in the real world. It shouldn't compromise on convenience or performance," says Dan Laufman, president and founder of Emotiva. "Emersa components have been engineered to balance performance with lifestyle, decor with function. It's our most ambitious introduction yet, delivering a new level of immersive experience with home audio (…)".
The new Emersa line includes the EMP-1, a full 7.1 channel preamp processor with unbalanced analog outputs plus balanced subwoofer output, built-in Bluetooth connectivity, Dirac Live room correction, USB DAC, and an Ethernet remote control option; the EPA-1 stereo preamp with digital audio inputs, 4 pairs of stereo line level analog inputs and one moving magnet phono input; the EPI-1, a stereo integrated amplifier with digital audio inputs, which combines all of the features of the Emersa EPA-1 (including the slim chassis and optional digital input modules) with two channels of ICEpower Class-D power amplification delivering 100 watts RMS per channel and, finally, the EDA Amp (three models). Like the EPA-1 and EPI-1, Emersa Amps share the same slim, elegant 1U chassis, and lightweight, ultra-efficient ICEpower Class-D power amplification found throughout the line. The user can select between the EDA-2 (2 channels; 150 watts/channel into 8 ohms), the EDA-5 (5 channels; 125 watts/channel into 8 ohms) and the EDA-7 (7 channels; 125 watts/channel into 8 ohms).
In stereo mode, the EPA-1 preamplifier can be connected to a standard stereo power amp or a pair of powered loudspeakers. In 2.1-channel mode, the main outputs on the EPA-1 can be configured with a fixed 80 Hz high-pass crossover, and a separate summed output is provided to connect a subwoofer. The various digital audio options for the preamplifier are the DAC1 input module provides basic support for streaming audio via USB and the DAC2 which offers an audiophile-quality USB audio input featuring an AKM 32-bit D/A converter. The Universal Streaming module offers digital audio streaming via USB, WiFi, Bluetooth, and Ethernet connections.
According to the press release, additional Emersa models will be announced in 2016.
For more information: http://www.emotiva.com/
---