Ferguson Hill launched new, improved FH007 Version 2.0 Hi-Fi system.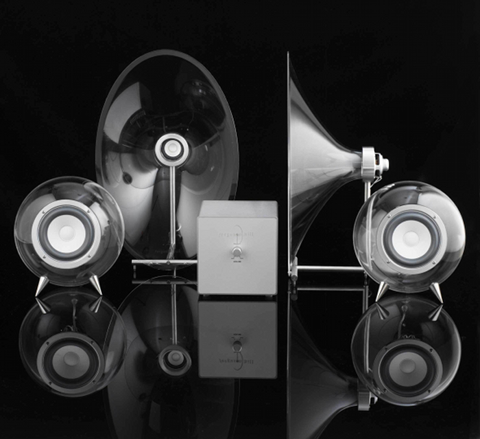 Source: Press Release, Last Accessed: 13/01/2016
The FH007 is a five piece loudspeaker system consisting of two stand-mounted, clear acrylic horn speakers, two bass spheres and an integrated class AB amplifier. The system has been designed to work around a desktop computer but can, also, be used with any sound source.
According to the press release, the original FHOO7 received 5 star ratings and rave reviews from media ranging from Macworld to The Sunday Times, T3 magazine to Sky News and since going on sale to the public has established a reputation across Europe as the "most stylish speakers in existence" (Macworld).
The new, improved version of this renowned system features virtually unbreakable (we've hit them with a hammer without cracking them!) polycarbonate horns, upgraded drive units in both horns and bass spheres for improved frequency response and a Bluetooth receiver so that you can stream music wirelessly straight from a computer, tablet or phone.
Ferguson Hill is a British designer loudspeaker specialist. Founded in 2003 by former aeronautical engineer Tim Hill, the company arrived on the Hi-Fi and audio scene with the design, manufacture and launch of the groundbreaking FH001, the world's first ever front loaded horn dipole loudspeaker. The independent UK company is recognized for its high end horn loaded loudspeakers and Hi-Fi components. Ferguson Hill now distributes to over 30 countries worldwide.
You can find a review (in Greek language) of the original FH007 model, back in 2009, here.
For more information: http://www.fergusonhill.co.uk/
---