PH-10: Gold Note's new phono preamplifier.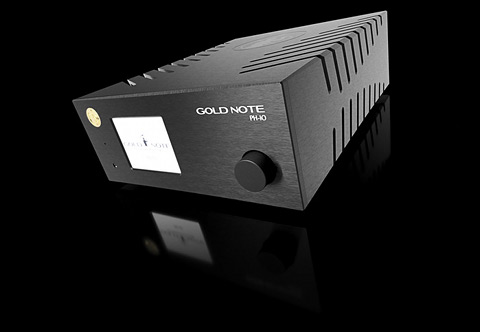 Source: Official website, Last Accessed: 2016/10/12
Gold Note recently unveiled the details for their new phono preamplifier, the PH-10. This is a design engineered to allow ultra precise adjustments and features two separate RCA inputs to independently connect two different tonearms and to match each cartridge specs.
Once the tonearm is connected, PH-10 can be adjusted to 4 different gain settings (-3dB, 0dB, +3dB and +6dB) to precisely match the output level of any MM or MC cartridge, while the perfect setup is guaranteed by 9 different load values (10 Ohm, 22 Ohm , 47 Ohm, 100 Ohm, 220 Ohm, 470 Ohm, 1000Ohm, 22k and 47k). The user will, also, be able to switch from the internationally recognized RIAA curve, to the DECCA-London or the American-Columbia curve, always graphically shown on the front display. Additionally, he will be able to "enhance" each curve with a modern Gold Note proprietary design for superior dynamic and powerful results.
PH-10's chassis is built from a solid block of machined aluminum and designed to elegantly cool the sophisticated electronics. The chassis offers good control of external vibrations and good magnetic isolation. The device features a 2.8-inch color display and everything is controlled by Gold Note proprietary SKC -Single Knob Control technology– an intuitive control system developed to easily browse and select all the unit's functions. PH-10 comes with a USB port to quickly update the unit via computer anytime new software is available. Output is through both a single ended RCA pair and a balanced XLR pair, and the unit can be externally powered by a dedicated inductive dual-mono power supply to enhance even more the audio performance.
Gold Note modular design allows upgrades with external units, including the aforementioned External Inductive Power Supply, the Curve Equalizer Extender unit, the Class-A Tube Output Stage and the Gain Stage Enhancer.
PH-10 is available in black, silver, gold and red colors.
For more information: http://www.goldnote.it/
---