Ideon Audio introduced the 3R USB Renaissance during the Athens High End Show 2016.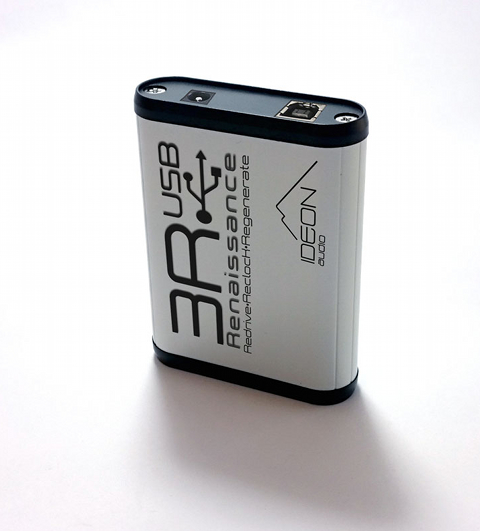 Source: Press Release, Last Accessed: 2016/11/29
Ideon Audio's 3R Renaissance connects between the digital output (host) and the Dac. It achieves excellent sound performance by uncovering lost detail, enhancing dynamics, re-clocking the signal using ultra-low jitter oscillators, and minimizing transmission losses. The 3R Renaissance dramatically improves the sound from digital audio computer files, music streaming services (like Spotify, iTunes, Tidal, etc.), even from low-res YouTube playbacks, the company says.
According to Ideon, while it is true that transmitting a digital signal is a process without problems in computer data transmission, where when a data error occurs, there is a repetition of the transmission until the data transfer is flawlessly completed, this is not the case when referring to digital audio signals. Audio streaming (an isochronous transfer) happens without any data error detection algorithm. Therefore, any errors or loss in signal transmission is not corrected and any data losses (due to long or bad quality USB cables, or poor power supply, or other clocking issues like high jitter on PC transports), are permanently lost. Those losses are finally "audible" and are practically responsible for an inferior sound performance.
The 3R provides a solution to this inherent problem of digital audio via USB, by highly improving signal transmission from the USB cable (USB rail) through a cutting edge re-drive chip that regenerates the USB signal, using a high quality low noise power supply and, also, re-clocks the USB signal utilizing low jitter oscillators. According to the press release, the 3R provides a perfectly perceptible sonic upgrade, offering high-end features in any system.
To introduce the 3R to the audiophiles, Ideon Audio presented a complete system for the "absolute digital audio playback experience" at the Athens Hxos Eikona Show 2016 (held in Radisson Blu Park Hotel during November's last weekend). The system included both the Audiophile Optimizer and the Fidelizer Pro software for optimizing the Win10-based host, the new Client-Server edition of musiCHI audio player, a 3R USB Renaissance device, and Ideon's Ayazi DAC to convert the digital signal back to analog.
For more information: http://www.ideonaudio.com/
---