JBL's 4367 and 4429 loudspeakers bring studio grade performance to home audio.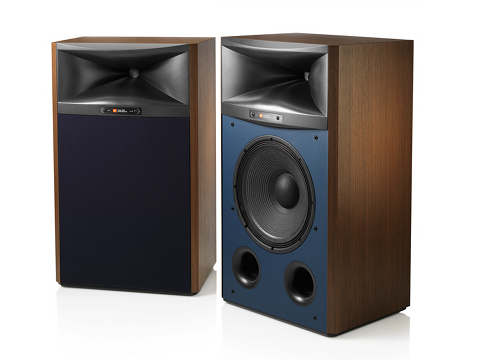 Source: Press release, Last Accessed: 2016/11/17
JBL's two pro-style loudspeaker monitors 4367 and 4429 combine the company's iconic pro-audio design with a number of acoustic refinements.
The JBL 4367, with distinctive blue front baffle and exposed mid/high-frequency horn, can be used in two-channel Hi-Fi stereo systems and JBL Synthesis applications in a 2.2 configuration with S2S-EX subwoofers, or in an L/C/R configuration as part of a complete JBL Synthesis theater. It borrows drivers and technologies derived from the company's M2 Master Reference Monitor. These include the brand's patented D2 compression driver technology featuring the D2430K dual-diaphragm/dual-voice-coil driver, which employs two ring-shaped diaphragms and dual voice coils, for greater output and power handling, to deliver an extended high frequency response to 40kHz. The D2 driver operates into JBL's newly developed High-Definition Imaging waveguide, which provides a neutral frequency response both on and off-axis in vertical and horizontal planes. The speaker also uses a cast aluminum frame woofer modified from the M2, with a new spider and surround treatment. Dual 75mm voice coils made from a pure pulp cone material deliver a low-frequency performance down to 30Hz. The 4367 features front-panel high frequency and ultra-high frequency trim adjustments, to fine tune audio response to the system and room. Maximum output power is 300 watts.
The sibling JBL 4429 system is an updated version of the company's 4425 studio monitor, introduced back in 1985. That model was the first JBL design to combine a compression-driver and Bi-Radial horn with a large-format woofer. The new JBL 4429 incorporates a 19mm titanium diaphragm, ultra-high frequency compression driver, and improved 50mm titanium diaphragm high frequency compression driver, in a one-piece SonoGlass horn system. Built for high (200W) power handling, the 4429 is available in walnut veneer.
For more information: http://www.jblsynthesis.com/
---