Pure Class A integrated amplifier from Luxman makes music magic.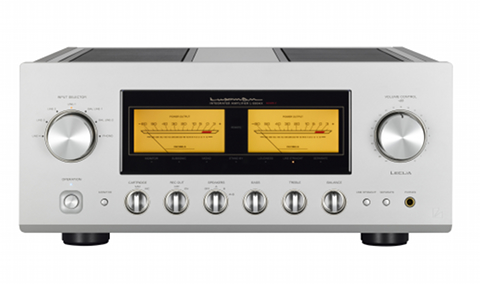 Source: Press Release, Last Accessed: 2016/02/02
The Japanese high-end audio specialist delivers its finest integrated amplifier yet, operating in pure Class A mode to deliver an addictive musical rush. The L-590AX Mark II -the best integrated amplifier the company has ever produced- is beautifully built with a classic look and feel, and, according to the press release, delivers spell binding clarity, exquisite sonic detail and fluid, free-breathing musicality.
The L-590AXII is the culmination of all that Luxman has learned since launching Japan's first high-quality integrated Hi-Fi amplifier, the valve-based SQ5A, in 1961. It combines the enduring excellence of Class A operation – still considered by many audiophiles to represent the pinnacle of sonic fidelity – with the convenience of a single-chassis integrated design, plentiful facilities and uncompromised engineering both inside and out.
At the amp's heart lies Luxman's fourth-generation ODNF (Only Distortion Negative Feedback) circuit, sporting a three-parallel push-pull structure with three-stage Darlington. This restricts feedback to distortion components only, enabling a fast primary slew rate, ultra-wide bandwidth and enhanced signal-to-noise performance.
The preamp section borrows much technology from Luxman's flagship C-900u preamplifier, including the LECUA 1000 attenuator circuit, which provides an extremely fine degree of volume control and left/right balance adjustment whilst maintaining sound quality at the highest level. Power is rated at 30W per channel into eight ohms, doubling to 60W per channel into four ohms – a healthy output for a pure Class A design, with sufficient power on tap to drive any loudspeakers of suitable quality, the company says.
According to the press release, the L-590AXII includes precision bass and treble tone adjustment (extremely useful given the variability of today's music formats), a loudness control for low level listening, a "line straight" button that bypasses the tone controls, and phase selection for the balanced inputs. Turntable users are well catered for, as befits the current vinyl revival, with an excellent on-board phono stage switchable for MM and MC cartridge types. A high-quality headphone output is also included. In classic Luxman style, the L-590AXII's fascia sports two illuminated VU meters giving a real-time indication of signal level that is both a satisfying visual accompaniment to the music and a useful guide to how hard the amp is being pushed. Around the back are six line-level inputs (four single ended RCA and two balanced XLR) alongside the phono input for turntables, plus two sets of heavy-duty speaker binding posts. Also present are record-out, monitor-in and preamp out terminals, an external preamp input for integration with an AV system, and two remote output terminals for integrated system control.
For more information: http://www.luxman.com/
---