Mamalos cables unveiled the Elixir nanotubes technology interconnect system.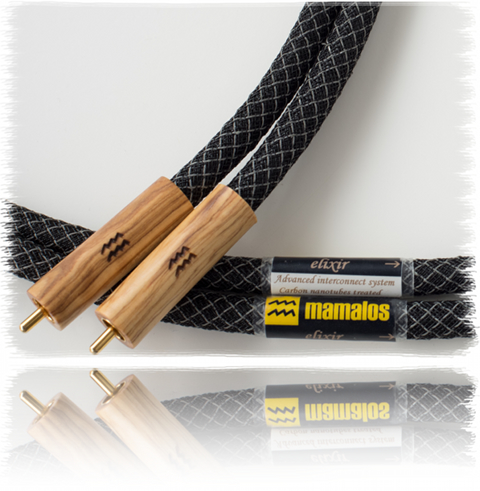 Source: Press Release, Last Accessed: 2016/06/14
The Elixir is Mamalos' first audio interconnect cable system to employ their newly developed carbon allotropes-based technologies, including carbon nanotubes treated conductors and shield, nanotubes shielded wooden connectors and a galvanically isolated shield system.
According to the press release, Elixir interconnect system is composed of two heavy solid signal conductors, specially made of 99.999% (5N) extra soft temper pure fine silver, carefully maintained in order to eliminate any surface mechanical anomalies and perfectly cleaned in a two-stage cleaning procedure.
Each conductor is immersed, under very specific conditions, into a unique master-batch that consist of functionalized multi-wall carbon nanotubes (MWCNTs) allowing them to fill in the voids between metal molecules and coalesce holding together by van der Waals forces thus treating any surface minor damages and dramatically increasing conductivity. Over each of the Nanotubes Treated Conductors, 14 separate layers of the same master-batch are pi-stacked together surrounding them and the whole structure is encapsulated in a Teflon tube.
Elixir interconnect system provides a triple shielding protection completely eliminating the external Electromagnetic (EMI) and the Radio Frequency Interferences (RFI) signals and a tetra-shielding protection (two isolated double shields) eliminating the interaction between the Carbon nanotubes treated conductors, the company says. Over each conductor, a double layer of Mamalos' newly developed Amorphous Carbon Nanotubes Shield is applied in very specific conditions and then isolated by applying an extremely thin, almost transparent, lacquer coating stabilizing and isolating the entire Carbon Nanotubes Shield structure. A very flexible PVC layer is applied over the two separately double insulated conductors stabilizing the entire system and providing excellent flexibility, further electric insulation, and durability. This layer is then covered by applying directly on it a unique conductive carbon layer, forming a triple shielding protection and providing a measurable shielding effectiveness over 99.9999 % for all frequencies.
Mamalos points out that Elixir's geometry offers a lower cable resistance without increasing the capacitance (the later being around 46pF/m), and hence greater bandwidth along with high thermal, chemical and mechanical stability. The geometry features a central Teflon tube which is directly coupled to the connectors along with the external PVC layer, a patented method of construction the company uses for their cables in general. This central tube is, also, a main part of Mamalos' Galvanic Isolated Shield System, being covered by an isolated conductive carbon layer, operating as a metal free drain wire absolving by induction to the ground end (same as at the isolation transformers) the already reduced EMI existing onto the Carbon Nanotubes Treated Conductors double shields. In this way the main conductors shields remain galvanically isolated.
Elixir features the company's Olive Wooden RCA connectors, a design that -according to Mamalos- offers superb conductivity for the lowest possible metal content and, also, provide a superior shielding factor and luxury appearance at the same time.
Elixir's external jacket is made of very flexible polyethylene braided together with highly reflective monofilament. The cable is carefully packed in a luxurious real wooden box specially designed to protect it and prevent any damage. Each of the wooden boxes has a unique serial number same as the cable. Inside you will find all documents and instructions manual required plus a bottle of Mamalos' anti-static cleaner. Total weight remains remarkably low (30gram/m) to protect delicate equipment sockets. The cables are de-magnitized before shipping, to neutralize all metal and non-metal parts, in a three-stage procedure.
For more information: http://www.mamalos.com/
---