Marantz introduced the HD-AMP1, an integrated amplifier with classical elegance and modern connectivity.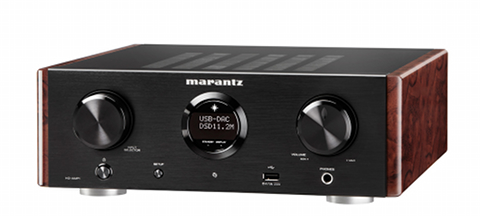 Source: Press Release, Last Accessed: 2016/01/29
Marantz recently announced the HD-AMP1, a digital integrated amplifier engineered to the highest Marantz purist audiophile standards. Building on the success of last year's HD-DAC1 Headphone Amplifier, the HD-AMP1 was created to serve at the center of a music system, delivering up to 2x70W from a special switching amplifier circuit.
Housed in an elegant compact chassis that occupies just over 1 square foot of desktop or shelf space, the HD-AMP1 is equipped with multiple digital inputs, including 2 optical and 1 coaxial along with 2 USB ports. It features the ability to decode the latest generation lossless high-resolution audio file types, including WAV, AIFF, ALAC, FLAC at up to 24-bit/192-kHz resolution, along with the ability to play MP3, WMA and AAC tracks. The rear panel USB-B port features advanced noise isolation so users can connect a PC or Mac and stream even higher resolution files, up to 32-bit/384-kHz. The HD-AMP1 is equipped with the reference grade ESS SABRE DAC and dual master clock crystals for the widest bandwidth, highest dynamic range and lowest distortion, the company says. The HD-AMP1 can also play DSD hi-res audio tracks including 2.6, 5.2 and 11.2-MHz sample rates.
The HD-AMP1 is the first ever Marantz Hi-Fi product that incorporated the concept of Class-D amplification and delivers 2x70 W into 4 Ohms thanks to an ultra-stable power supply and Marantz exclusive Current Feedback technology. According to Marantz, the Dual Crystal Clock and a discrete DAC post filter combined with the company's highly-acclaimed HDAM preamplifier modules make standard counted sound feel like high-resolution audio.
The compact, elegant chassis features a premium brushed alloy front panel with matching knobs along with Marantz' signature Porthole round front panel 2-line OLED display, which features 3 dimming, levels and off. The stylish wood-tone side panels add a luxurious touch and the robust chassis features our rugged dual bottom plate construction for maximum rigidity coupled to aluminum alloy chassis feet for maximum vibration resistance.
For more information: http://www.marantz.com/
---