Marantz announced new HD-CD1 Premium CD Player.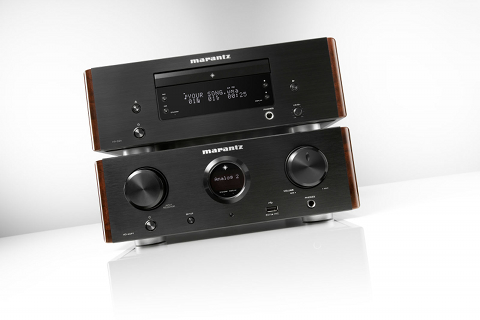 Source: Press Release, Last Accessed: 2016/08/26
Marantz announced the HD-CD1, a Premium-class CD Player with elegant, classic looks and a mid-size design. While small in its dimensions, it makes use of state-of-the-art Marantz technology carried over from the company's award-winning CD players, including the famous Marantz HDAM-SA2 amplifier modules. This unit builds on the success of the highly acclaimed HD-DAC1 Headphone Amplifier and HD-AMP1 Integrated Amplifier.
The HD-CD1 features a CD mechanism, able to play MP3, WMA and AAC files as well as standard CDs, offering ultra-accurate disc-reading. The HD-CD1 uses the Marantz-designed HDAM-SA2 Hyper-Dynamic Amplifier Modules; in place of the all-in-one "chip amplifiers" used elsewhere, these miniature amplifiers are built from discrete, optimized components for the very best sound quality, and are found in Marantz products all the way up to the Reference series players and amplifiers.
The CD transport mechanism sends data to the player's high-resolution digital-to-analog converter, which is the same Cirrus Logic CS4398 device found in top-flight digital hardware. This is used together with a crystal oscillator master clock designed for ultra-low phase noise. The dedicated headphone section in the player has its own volume control and a dedicated HDAM-SA2 amplifier, complete with adjustable gain setting – low, medium and high – to enable it to drive even highly-demanding audiophile headphones.
The HD-CD1 has both optical and coaxial digital outputs. Through these, it can be connected as a CD transport straight into the digital input on the HD-AMP1, allowing it to be used with the superb ESS Sabre DAC built into the amplifier. Like the analog outputs, the coaxial digital connection uses a high-quality gold-plated RCA socket, and a digital cable is supplied with the player.
The design features high-current power supply with high-capacity storage capacitors, along with high-speed Schottky diodes to ensure the player is able to deliver the dynamics of music, Marantz says. The HD-CD1 is built on a double layer base-plate for rigidity and vibration suppression, aided by the use of compliant feet, a solid aluminum fascia and a rigid top-plate, and is finished with retro-style side-cheeks for that "classic Marantz" look.
For more information: http://www.marantz.com/
---