McIntosh Labs introduced D1100 Digital Preamplifier and MP1100 Phono Preamplifier.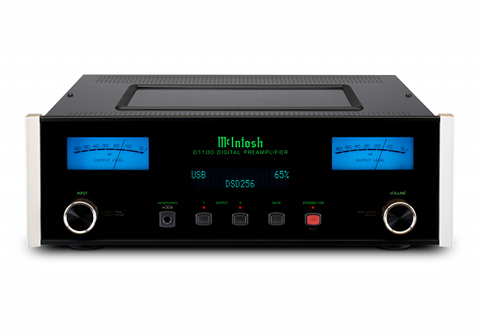 Source: Press Release, Last Accessed: 2016/12/09
The D1100 Digital Preamplifier is a reference level stereo preamplifier and digital-to-analog converter (DAC). Its 8-channel, 32-bit DAC is used in Quad Balanced mode with half of it dedicated to the left audio channel and the other half to the right channel. According to the press release, it's the most advanced DAC McIntosh has ever used and delivers an unprecedented level of performance so that all digital music is reproduced with exceptional accuracy and authenticity.
Nine inputs are included to keep even the largest digital system connected as 3 optical, 3 coaxial plus 1 each of MCT, AES/EBU and USB inputs are on-board. The USB input accepts up to 32-bit/384kHz signals and supports DSD64, DSD128, DSD256, DXD 352.8kHz and DXD 384kHz playback. All the other inputs accept up to 24-bit/192kHz. Three sets of balanced and unbalanced stereo outputs connect the D1100 to the rest of the audio system. It can also be connected to and used in tandem with its analog equivalent, the C1100 Vacuum Tube Preamplifier.
The MP1100 is designed first and foremost for analog audio and achieves their most accurate equalization ever, the company says. It utilizes four 12AX7A vacuum tubes, with two tubes used per channel in a fully balanced configuration – McIntosh's very first fully balanced vacuum tube phono stage. It has 3 sets of RCA phono inputs with XLR connectors also available on one of the inputs. All phono inputs allow for adjusting both resistance (6 settings) and capacitance (8 settings). For ease of use, it comes pre-programmed with profiles for MC and MM cartridges as well as the McIntosh MT10 and MT5 turntables. Five additional profiles are included that are fully customizable and can be assigned to any phono input. RIAA, LP, NAB, AES and 78 analog equalization curves are included. Additionally, two useful analog filters are built-in, a Rumble Filter and a Scratch Filter. Finally, the MP1100 has an optical, coaxial and USB output, fixed at 24-bits (but with selectable 96kHz/192kHz sampling rates).
Shipping is anticipated to begin to the United States in December 2016 for D1100 and January 2017 for MP1100 and to the rest of the world soon after.
For more information: http://www.mcintoshlabs.com/
---