McIntosh unveiled the MHA150 headphone amplifier.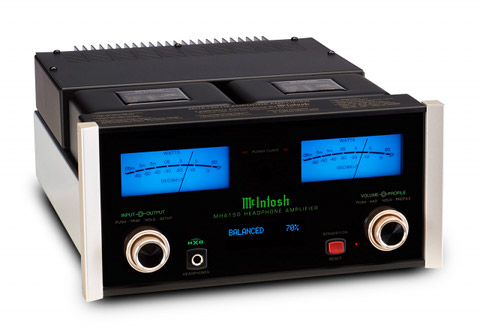 Source: Press Release, Last Accessed: 2016/09/13
The MHA150 is a successor to the critically-acclaimed MHA100 and contains the same feature set and performance standards but adds the company's new, 2nd generation, digital-to-analog converter, offering support for DSD and DXD files and giving access to the latest in digital music. Like the MHA100, the MHA150 continues to take advantage of the unique McIntosh Autoformer technology, found in their large mono and stereo amplifiers. Autoformer has been adapted to produce three headphone impedance ranges of 8-40, 40-150 and 150-600 Ohms so that every headphone will receive the legendary McIntosh sound quality and performance, the company says.
For enjoying DSD and DXD files, the USB input accepts PCM signals up to 32-bit/384kHz and supports DSD64, DSD128 and DSD256 along with DXD 352.8kHz and DXD 384kHz. The proprietary MCT input has also been added to the MHA150; when paired with the MCT450 SACD/CD transport, it offers a secure DSD connection for playback of the high definition audio on SACDs. For connecting digital devices, an optical and coaxial input are included along with the USB and MCT inputs; two analog inputs are also available. Headphone Crossfeed Director (HXD) brings added dimension to the music in a natural sounding way but can be turned off depending on user preferences. The MHA150 feature a compact sized chassis with the same width as the MB50 Streaming Audio Player. The two, can be combined to start building a complete system.
The MHA150 is powerful and versatile enough to drive a pair of quality desktop or small bookshelf speakers via its 50 watt stereo speaker outputs. McIntosh's Power Guard technology is included and will prevent clipping that could damage the headphones or speakers. A 5 step Bass Boost Control allows for further sound customization.
For more information: http://www.mcintoshlabs.com/
---