McIntosh unveiled the MX160 7.1.4 channel A/V Processor.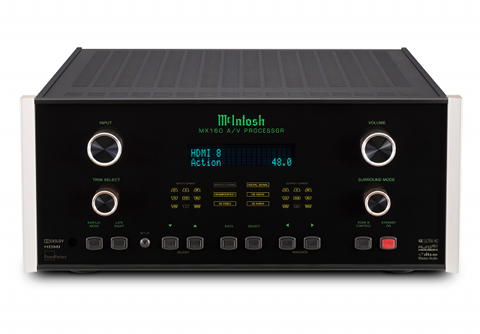 Source: Official website, Last Accessed: 2015/12/17
The MX160 A/V Processor is teeming with all the latest home theater technologies, supports new object-based 3D audio formats including Dolby Atmos and Auro-3D and will be upgradeable to support DTS:X while RoomPerfect room correction technology will adjust the audio to the specific acoustics of your room –further enhancing the sonic innovations of these newest audio codecs. The MX160 is also compatible with Dolby TrueHD, DTS-HD Master Audio and other popular legacy formats so you can continue to enjoy your existing DVD and Blu-ray movie collection in surround sound. Regardless the format, all audio will be processed according to legendary McIntosh sound quality and performance standards not found in any other home theater processor, the company says.
In the video processing part, the MX160 fully supports 4K Ultra HD native sources as well as up-converting lower resolutions to 4K Ultra HD for the best possible picture quality. Its 8 HDMI inputs and 4 outputs provide plenty of options to connect your existing and future HD and 4K Ultra HD sources. 3D video pass-through will put you right in the action of your favorite 3D movies. An HDBaseT output is included to provide degradation-free, uncompressed digital video and audio over long cable runs between the MX160 and your projector or TV.
The MX160 features balanced outputs for 11.1 (also known as 7.1.4) audio channels plus 4 auxiliary channels for use in bi-amping your speakers or driving additional subwoofers. For digital music lovers, the MX160 features four optical, three coaxial, one AES/EBU and one USB input that accepts up to 24-bit/192kHz signals. For analog audio, there are 2 sets of stereo balanced inputs, 4 sets of stereo unbalanced inputs, a dedicated phono input and a set of 7.1 multichannel unbalanced inputs. All analog and digital connections can be custom named for simplified system operation and matched in volume level for a smooth transition between sources. Bass and treble controls offer further audio fine-tuning.
For more information: http://www.mcintoshlabs.com/
---