Meridian's new upgraded 808v6 Signature Reference Compact Disc player.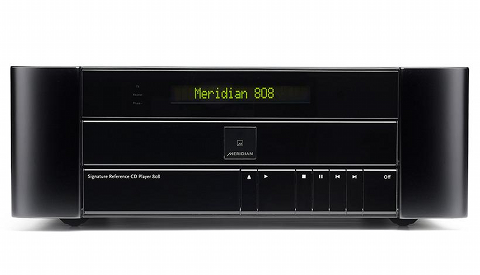 Source: Press Release, Last Accessed: 2015/12/20
Meridian has introduced the latest generation of the 808, specifically developed to render the very best sound from Compact Disc and network audio. In addition, the 808v6 now decodes Master Quality Authenticated (MQA) sources.
According to the press release, 808v6 is the highest performance CD Player ever manufactured by Meridian. The latest edition of this ground-breaking product offers several significant improvements including the decoding and rendering of MQA sources to deliver studio quality reproduction – guaranteed – via both digital and analogue outputs.
The 808v6 offers CD playback from an internal CD ROM based drive which allows for data recovery and error correction many times better than that employed in standard CD systems, as well as external analogue and digital sources.
The 808v6 features a built-in MQA decoder that fully supports Master Quality Authenticated (MQA) encoded music playback, guaranteeing a studio master quality experience, upgraded S/PDIF and USB receivers enabling both USB and RCA inputs to receive up to 192 kHz digital audio and an enhanced DSP chip, offering lip-sync control, DSD playback (DoP) and MQA rendering capability for analogue outputs. The analogue outputs also feature bass, treble and balance controls and are, also, improved -featuring an upgraded circuit with filtering that broadens the bandwidth, and maximizes the potential of high-resolution music.
The CD player includes triple FIFO buffering and DSP apodizing upsampling filter to deliver the best possible "high definition" sound from the popular CD medium. The 808v6 is available in black and the complete range of Meridian Select colors.
For more information: https://www.meridian-audio.com/
---