Meridian firmware update enables MQA playback through compatible products.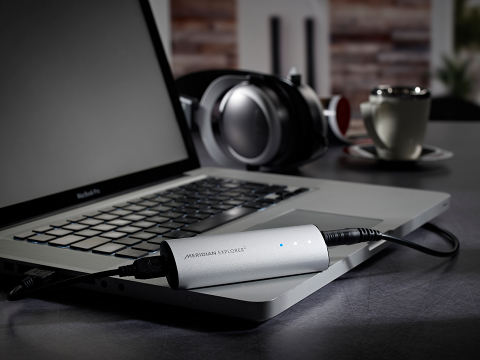 Source: Press Release, Last Accessed: 2016/02/03
Meridian Audio announces the availability of a firmware update for its MQA-compatible products including Explorer2, Prime Headphone Amplifier, 808v6 Reference CD Player, 818v3 Reference Audio Core, Special Edition Loudspeakers range, and its 40th Anniversary Systems. From 4th February, Meridian customers will have access to the necessary updates to enable MQA playback—offering listeners for the first time in their own home, the opportunity to experience the full, intricate detail of a live performance for the first time in the history of recorded music.
Commenting on the announcement, John Buchanan, CEO at Meridian Audio said, "The commercial availability of MQA heralds an exciting time for Meridian and our customers. We are proud to be the first to offer MQA playback at the highest level in a pure digital signal path straight from the studio to your home or pocket. Meridian has been a pioneer in the digital audio revolution for decades, and we are thrilled to add MQA as the next evolution to our reference level feature set – establishing a new benchmark in superior audio performance."
Barry Sheldrick, Director of Sales at Meridian stated, "From the work that MQA has been undertaking with recording studios we know that many artists have been using the Explorer2 to sign off their master recordings, which makes the fact that this product is available to buy for under £200 in the UK even more remarkable."
Firmware updates for the personal audio products will be available for download from the support pages on the Meridian web site, while updates for Reference Series products and loudspeakers will be handled directly by Meridian dealers and Meridian Customer Support.
For more information: https://www.meridian-audio.com/
---