The New Marquis "Memento Mori" headphone amplifier from Metaxas: When Death reminds us to live.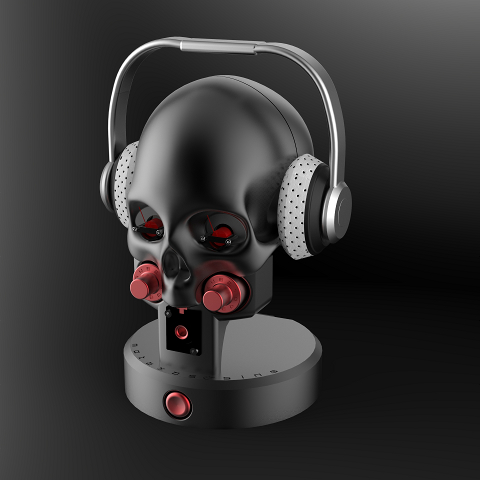 Source: Press Release, Last Accessed: 2016/11/28
No-one could ever accuse Kostas Metaxas of creating something "boring". Yet again, this eccentric artist presents us with his unique take on a very utilitarian subject - the headphone amplifier. Combining a historic art oeuvre - "memento mori", contemporary sculpture with cutting-edge technology, his latest Marquis is a sublime, minimalist preamplifier/headphone amplifier designed for music-loving audiophiles who require few functions but insist on the purest sound.
Memento mori means "remember that you must die" in the language of Latin and for men living in antiquity all the way up until the beginning of the 20th century, death was seen as a motivator to live a good, meaningful, and virtuous life. It served to remind us of our own mortality, of our mistakes and failures and of the shortness and fragility of human life.
" I take every opportunity to infuse art into everyday objects. When I looked at what was being offered on the market, I couldn't believe that you only had a choice between unimaginative small boxes and oversized tube amplifiers pretending to be headphone amplifiers. Life is too short to listen to and enjoy expensive headphones through a boring, musically uninvolving and ugly headphone amplifier!", Metaxas says.
According to the press release, the Marquis borrows from over 25 years of concert recording experience with serious headphone monitoring to produce an amplifier with unparalleled transparency and effortless realism. Like all Metaxas & Sins amplifiers, the CNC-machined "head block" can be meticulously finished in a choice of 10 aluminum colors, or automotive painted.
As well as a dedicated headphone amplifier and headphone stand, the Marquis also can be used as a minimalist preamplifier with a choice of 3 line-level inputs with RCA connectors and a set of RCA outputs to connect to a power amplifier to drive a pair of loudspeakers. The solid CNC-machined base encloses the power supply to keep all stray RFI and noise from the delicate low-level signal stages, but also can be offered with optional battery-pack so that you can use the Marquis for over 5 hours before needing a recharge.
For more information: http://www.metaxas.com/
---