Monitor Audio introduced their new Platinum II Series.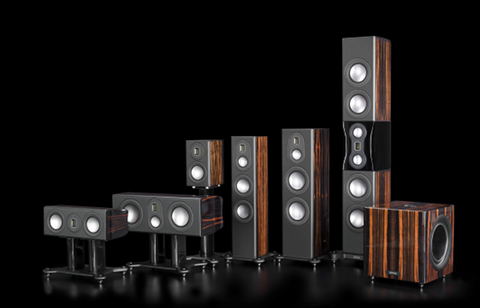 Source: Press Release, Last Accessed: 2015/12/20
Inspired by rigorous new analysis and breakthrough innovation by its engineering team, Monitor Audio's Platinum II is introduced -according to the company- as a potent mix of evolutionary refinement and discovery, offering genuine audiophile performance with a stunning design and materials specification.
In the pursuit of ever lower distortion, Monitor Audio have optimized the operation of electrical, mechanical, magnetic and acoustic parts of the loudspeakers, introducing new technologies where necessary to meet ambitious performance goals. For the first time in a Monitor Audio loudspeaker, Platinum II deploys a new MPD (Micro Pleated Diaphragm) high frequency transducer, supported by next-generation RDT II bass and mid drivers, improved crossover design and bespoke speaker terminal designs.
The MPD High Frequency Transducer uses an extremely thin, low-mass pleated diaphragm with a surface area eight times larger than that of a traditional dome tweeter, offering greater accuracy and efficiency. The design represents a wholesale reworking of an establish technology, introducing a greater number of diaphragm pleats while reducing plea height to eliminate the typical dip in response around 40 kHz. Consequently Monitor Audio's MPD tweeter operates with uniform output to over 100 kHz.
RDT II is a composite "sandwich" structure made from ultra-thin low mass skins, bonded to a honeycomb Nomex core material. Unlike the original RDT construction for Platinum I, which used two C-CAM skins, RDT II employs C-CAM for the front skin, while the rear skin is made from a woven carbon fiber material. Monitor Audio's engineers discovered that the new structure reduces distortion by over 8 dB above 300 Hz, which makes RDT II the lowest distortion cone technology in Monitor Audio's history. The new RDT II diaphragms have a shallower "dished" profile formed without a center hole to create a radiating surface of greater strength and structural integrity. The voice coil and motor sit behind the cone, producing more efficient excursions, lower distortion and a wider response.
Monitor Audio's engineers have reduced distortion at the upper end of each driver's range by coupling the voice coil with the cone using a nylon ring in place of rigid aluminum. This "Dynamic Coupling Filter" acts as a 'solid' part up to the crossover frequency, faithfully transmitting the motion of the voice coil directly to the cone. Above the crossover frequency it acts like a damping spring, reducing the transmission of energy between the voice coil and cone. The DCF mechanism effectively adds an additional mechanical filter to help the crossover, reducing output above the crossover frequency by 18 dB per octave.
Crossovers have been completely re-developed using air core inductors in midrange/tweeter sections and laminated steel cores for bass sections. Custom made audiophile grade metallized polypropylene capacitors are selected to operate within a 1 percent tolerance for the best possible sound quality. Platinum II speakers are internally wired using Monitor Audio's "Pureflow" silver-plated OFC copper cable.
Platinum II's bespoke speaker terminal design is precision milled from solid copper with Rhodium plated conductor parts. Rhodium is favored for its excellent electrical conductivity and resistance to oxidization. Terminals are designed to accept a spade, 4mm banana plug or bare wire, up to a diameter of 4mm.
Platinum II shares many of the innovations introduced by Platinum I to reduce cabinet coloration. These include bolt-through drivers, ARC (Anti-Resonance Composite) for midrange (Tapered Line Enclosure) housings and baffle components, super-fast HiVe II reflex ports, and a multi layer cabinet construction, curved internally and externally.
For the finish, natural wood veneers in Santos Rosewood or Natural Ebony are pair-matched, applied and hand-coated with eleven layers of clear gloss piano lacquer, polished to reveal the glowing luster in the grain. Platinum II models are also available in a penetrating piano black gloss lacquer. The front baffles are hand-upholstered with the very highest quality Inglestone leather supplied by Andrew Muirhead. The new seven-model lineup premiers the luxury flagship PL500 II tower; two further floorstanding models, the PL300 II and PL200 II; the PL100 II stand-mount monitor; matching center-channel speakers in two sizes (the PLC350 II and PLC150 II); and a 1400W, twin 15-inch subwoofer (the PLW215 II).
For more information: http://www.monitoraudio.com/