MusiCHI unveiled a client-server version of their Music Organizer/Player Suite.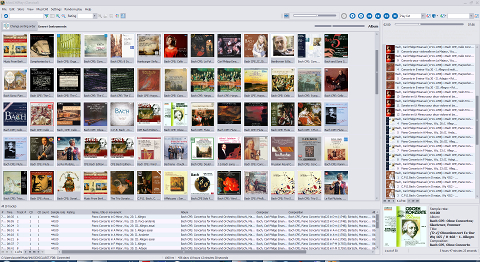 Source: Press Release, Last Accessed: 2016/11/28
The well-known software is now available in a client-server architecture, a much better approach for big music collections that shares the total processing load in two computer platforms, one thin server for the basic playback functions and one client to perform all the database queries and other processing functions the user needs.
This, new, version of the MusiCHI suite requires two Windows machines, a thin server (i.e. a computer quite moderate in CPU power terms) with 4GB RAM or more. This RAM size is needed for playback through a RAM buffer. An old laptop for example, could be optimized to be such a dedicated MusiCHI audio server. This is the device connected to the USB DAC and the rest of the sound system. The music can be stored in a NAS, which is, probably, a cleaner solution in the case of RAM playing, or a USB disk.
The thin server is controlled through a "thicker" client, the second computer in the system, which performs all the queries and processes the user needs to access and to curate his music collection, without taxing the playback machine. If the library is of an appreciable size, the client needs some computing power, therefore an anemic tablet/phone would not fit the bill. Since having a decent screen size to display the data criteria, especially for jazz and classical music, is an additional plus, a 2-in-1 Windows laptop or a tablet, with an i3 or i5 processor, and a 13-inch display is a better choice, the company says. Because it does not have to be dedicated and optimized for audio reproduction, it can still be used for other purposes as well.
The software features two methods of communication between the client and the server, wirelessly, through Wi-Fi, or through the wired Ethernet network. The client offers access to basic "transport" functions such as the play, stop, next/previous track, pause and jump to another place in the song commands and allows for sound level adjustments and muting given that the DAC driver allows these. It, also, performs the shut down or reboot procedures for the server and the switch-on or switch-off of the memory playback function. The server side is capable to send data about the connection status, the total playing time of the track, the current playback time and the progress of the playback, back to the client. To purchase the client-server version of MusiCHI, to ask for more information and to get help and advice about setting the software up, you need to contact them directly through their support e-mail service.
For more information: http://www.musichi.eu/