Amazing sound with the memory playback: MusiCHI Suite unveiled Version 5.1.00.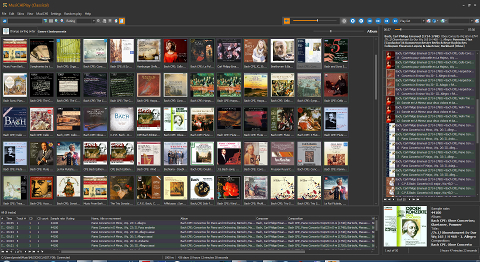 Source: Press Release, Last Accessed: 2016/01/27
MusiCHI Suite, the 4-in-1 application (Library Manager, Tagger, Ripper & Player) dedicated to classical, jazz and other data-intensive genres of music, has launched a new release. The Version 5.1.00 has modified the sound kernel to have the option to play all tracks from a memory buffer.
MusiCHI Suite is available in 2 versions: MusiCHI Studio (price €39), which includes the four applications (Player, Ripper, Tagger, Library Manager) and MusiCHI Ultimo (price €49), which apart from the four applications, includes also the Portable Edition, a unique application that allows the user to transport and play all his digital music library on any other PC without any further configuration than plug a USB drive. The MusiCHI Tagger is also available separately as a stand-alone product (price €19), for those who just want to edit and normalize their audio tracks' metadata.
MusiCHI Suite is an integrated "High Fidelity" music organizer to manage and listen to digital music, featuring ultimate customization, unlimited library size, incomparable tagging capabilities, and bit perfect output. It includes four applications (Player, Ripper, Tagger, Library Manager), each optimized for the tasks they are dedicated to perform. The suite introduces new standard tags (Instruments, Composition, Period, Performers, Style) plus 6 extra custom fields. Unlike most other programs, in MusiCHI Suite, all metadata reside inside the audio files, nothing is stored in the library only. This allows users to utilize another software in conjunction with MusiCHI, or if the database is missing no tagging work will ever be lost; as long as the music is present, the library can be rebuilt.
The suite also includes a reference database for classical music, MusiCHI Clean©®. There are now more than 7,500 composers and 12,000 performers in classical and over 165,000 in jazz, all having been properly corrected and normalized with full respect of their local spelling (umlaut, accents etc.), i.e. the program and the database are both fully Unicode compliant. Furthermore, the integrated catalogs of the compositions (over 26.000 compositions) of the 126 most famous composers are included.
The software is available in English and French. MusiCHI Suite is designed to run on Microsoft Windows (XP, Vista, 7, 8.1, 10), but it has also been successfully used on Macintosh, running either "Fusion" or "Parallel" virtual machines applications.
MusiCHI Suite is WASAPI compatible, allowing to by-pass the Windows video sound mixer thus achieving bit perfect digital output, having passed bit transparency tests with a Weiss DAC202. Favoring the best audio sound, open standards, and equipped with many advanced features, MusiCHI Suite has all the tools to allow the user to create and groom digital music libraries of any size and number.
The player can play FLAC files up to 24 bits/385.2 kHz), with additional support for MP3, MP4, APE, WMA & M4A (lossy & lossless), WAV ("taggable") and AIFF. Furthermore, MusiCHI Suite provides a converter to MP3, to sync easily to a portable device. If you play high definition files like 24/192, 4 GB of RAM is recommended. For CD quality tracks, this is not an issue.
For more information: http://www.musichi.eu/