Pro-Ject Audio unveiled The Classic, a homage to a classic turntable concept!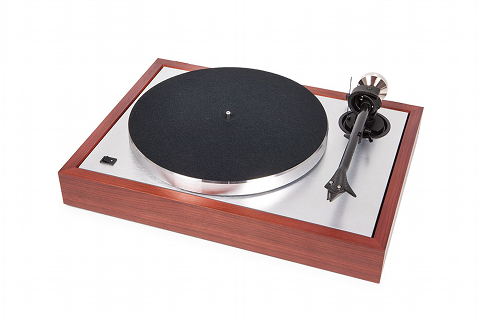 Source: Press Release, Last Accessed: 2016/05/24
As Pro-Ject Audio Systems celebrating their 25th anniversary, they presented a concept of turntable alongside which founder Heinz Lichtenegger started his turntable career close to 40 years ago: the compact, simple and elegant "frame" design, established by manufacturers in the '50s and '60s.
For The Classic, Pro-Ject changed the old principle of spring-loaded sub-chassis designs, which often had been a hassle to adjust, to make the sound really perfect, to create an easy-to-use "plug & play"? product, but with better sound due to better isolation. Thanks to the modern TPE (Thermo Plastic Elastomers) damping materials, Pro-Ject were able to design a very effective sub-chassis construction which isolates the platter and tonearm from the resonances of the motor and main plinth.
The platter of The Classic is precisely machined out of a special aluminum alloy, again with TPE included, which offers special damping abilities. The sub-platter/main bearing construction is a similar system as on the Debut. It's hardened steel, bronze-bushing, Teflon-bearing results in the very smooth low noise running of the bearing. The main difference to the Debut bearing is the tolerances, which are lower by a factor of 10 and therefore more precise (0.005%).
The newly-designed Classic Tonearm is the result of 25 years of experience in mechanical construction and is made out of a sandwich of carbon and aluminum. The cardan-joint (gimbal) type bearing assembly features pin-point Zircon bearings providing ultra-low friction, while a new high-cost Japanese base-ball-bearing allows for a better lead of the tonearm wire and increases the free movement of the arm. The counterweight incorporates a TPE damper which allows to reduce the amplitude of the tonearm cartridge resonance frequency by 50%, the company says. As is typical for Pro-Ject the tonearm offers VTA adjustment to use a variety of cartridges. Different counterweights for cartridges up to 25 grams are available as an option.
Also as an option, the Classic includes a 2M Silver moving magnet cartridge, exclusively designed for Pro-Ject Audio Systems by Ortofon. The 2M Silver improves the sound and dynamics of the recognized 2M series by implementing pure silver coils instead of standard copper. A top-grade RCA connection cable, Connect it E, a dust cover and a power supply are, also, included.
The turntable is already available in walnut, rosenut and eucalyptus for €950,00 (without the 2M Silver cartridge) and for €999,00 (cartridge included).
For more information: http://www.project-audio.com/
---