Puro Sound Labs unveiled first ever headphones featuring interactive volume level monitoring.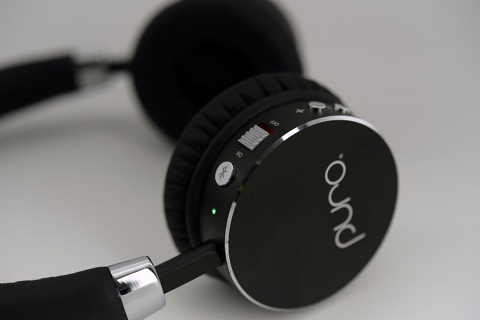 Source: Press Release, Last Accessed: 2015/12/08
Puro Sound Labs unveiled the expansion of their product line to include the first Healthy Ears headphones for adults. The new BT5200 studio-grade wireless headphones follows the successful BT2200 line of studio-grade wireless kids headphones and includes an advanced volume monitoring and interactive reporting system to guide users to safer listening…
With the introduction of the BT5200, Puro Sound has the first solution on the market that uses an advanced microprocessor to continually monitor and accurately report the volume levels measured in decibels. The multicolored LED indicator provides users with an interactive experience that will guide and educate them on the way to safer listening, offering a green (85dB or less, safe listening for up to to eight hours), a yellow (85 - 95dB limit use at this level to no more than two hours) and a red indication (over the 95dB limit to fewer than 15 minutes a day.)
According to the press release, a critical part of the BT5200's Healthy Ears solution comes from the audio engineering that is in every Puro Sound Labs product. Pristine audio quality provided by unique frequency response curve called Puro Balanced Response recreates the natural sound produced in a perfectly tuned listening room. This also includes best-in-class noise attenuation, blocking over 82% of ambient noise through thoughtful construction and supple ear pads for a good seal to block out external noise. A 24-hour battery life lets you listen for as long as you want.
The BT5200 are also designed with contemporary style and feature durable aluminum parts, which makes the headphones lightweight for extended listening comfort. The tough, anodized finish resists scratches and fingerprints, so the headphones retain their premium look for years of use. The folds-flat design and 24-hour playback time makes them perfect travel companions.
For more information: http://www.purosound.com/
---