Roksan Audio unveiled the blak Series.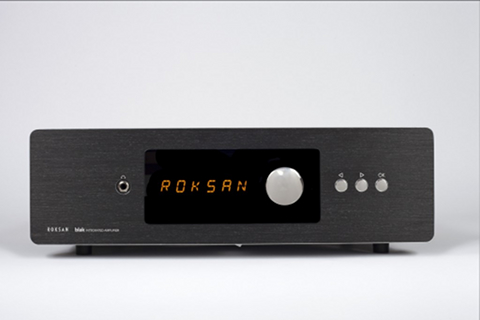 Source: Press Release, Last Accessed: 2016/06/08
Roksan Audio are constantly striving to push the boundaries of high-fidelity audio. Their established product ranges of Kandy, Caspian and Oxygene products aim to satisfy a variety of music tastes, budgets and technical requirements; and each is highly regarded in its own category. Now the London-based company are planning to introduce an exciting new assortment to their portfolio.
The blak series is being introduced as an entirely new design for Roksan – both in terms of sound performance and visual appeal. Featuring a robust, industrial design that still manages to look modern and elegant; the blak series is the audiophile solution for those seeking superlative performance and features within a statement product aesthetic, but without the esoteric high-end audio price tag.
Handmade in the UK and at a specialized facility in Germany, the range is initially launching with an integrated amplifier and a CD player. These will be followed over time by further audiophile solutions to create a flexible and comprehensive range of products. Like the K3 range before it, all blak products will be available in three stylish finishes – Anthracite, Charcoal and Opium – and all will be supplied with a stylish and intuitive system remote.
The blak Integrated Amplifier combines a high-end amplifier with a highly-specified USB DAC, a Bluetooth receiver and a dedicated headphone amplifier; all in one sleek chassis. The design allows the amplifier to deliver a weighty, over-150W (8Ω) output, while retaining the detail and sound-staging demanded by audiophiles, the company says. For analog signals, the amp features three RCA pairs and a balanced XLR pair of line level inputs and an MM phono stage. For digital, the blak amplifier supports wireless music playback via its built-in aptX Bluetooth module and a USB (Type-B) digital input for playback from a computer or laptop. The DAC design allows for playback of audio files up to 24-bit/192kHz (PCM) or DSD128. The blak includes a headphone amplifier with an independent power supply and toggle switch. By turning the headphone switch on, the blak transforms itself into a dedicated headphone amplifier – switching off the speaker outputs and dedicating all resources to driving the connected headphones as well as possible.
Housed within the same chassis-type as the integrated amplifier, the blak CD Player uses a totally isolated high-performance disc mechanism to eliminate vibration and an audiophile standard DAC chip-set for bit-perfect conversion and an advanced digital clock for optimal performance. For connecting to an external DAC there are three digital outputs available (S/PDIF, Optical or AES/EBU), or for connecting straight to an amplifier – like the blak Integrated Amplifier – there's the choice of either unbalanced RCA or balanced XLR outputs.
For more information: http://roksan.co.uk/
---