Roksan K3 DAC: Superior sound from a versatile digital hub with wireless connectivity.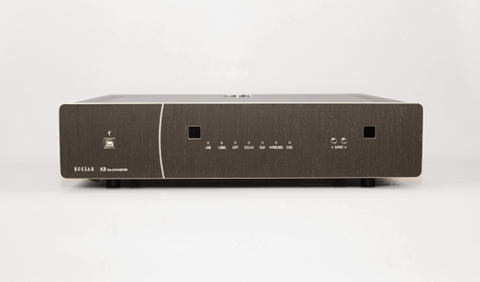 Source: Press Release, Last Accessed: 2016/02/11
Roksan introduced their much anticipated stand-alone Digital-to-Analogue Converter (DAC) to complete its K3 range of Hi-Fi electronics which has been a resounding success since its introduction in 2014 and included, until now, an integrated amplifier, a power amplifier, a CD player and a CD player/DAC combo.
The K3 DAC was first teased at Munich High End in 2014 and, since that point, extensive development has forged it into a superb sounding audiophile device that meets the highest specification possible, while maintaining a user-friendly interface. In that way it perfectly matches the K3 Series' mantra of Style, Performance and Function, the company says.
According the published details, within the sturdy casework of the K3 DAC, is a very high-quality DSD1794A DAC chip from Texas Instruments which handles both PCM (up to 24-bit/192kHz) and DSD (up to DSD128) data streams, utilizing the advanced DAC architecture to secure excellent dynamic performance and improved tolerance to clock jitter. This allows for a consistent high performance across the myriad of input options at your disposal, including 1x AES3/SPDIF (XLR), 1x Optical, 1x Coaxial RCA and 2x USB (Type B) ports.
The K3 DAC is also the first product to use Roksan Audio's new wireless technology, K-LINK. K-LINK allows for uninterrupted CD-quality wireless streaming from a digital or analogue transmitter at a range of about 30m in a domestic environment. The K3 DAC is supplied with a digital USB dongle for wireless streaming from a laptop or a desktop computer with support for Mac and Windows, while the optional analogue transmitter allows for wireless streaming from a traditional line-level Hi-Fi source. The analogue output filtering has been optimized to deliver a sonic performance worthy of the high standards the K3 Series is kept tom, Roksan says.
The K3 DAC is available in the same three finishes as other K3 Series products; Anthracite, Charcoal and Opium. Control over inputs can be achieved via the front panel or through the supplied R7 System Remote, which also works with the K3 CD players and K3 integrated amplifier.
For more information: http://www.roksan.co.uk/
---