Scansonic M BTL-series are Raidho-inspired, wireless and active, aspiring to be the next-gen of Hi-Fi loudspeakers.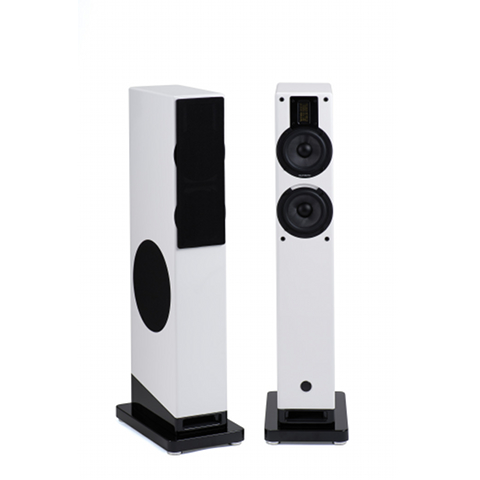 Source: Press Release, Last Accessed: 2016/06/15
Danish Scansonic may be the sister brand of highly acclaimed Raidho, but its affordable "HD" range of loudspeakers is starting to make waves in its own right. Now, it enters the Bluetooth arena with the new wireless active M BTL-series.
According to the press release, Scansonic is owned by Dantax, the same parent company as Raidho and the brand's loudspeakers are designed by Michael Boerresen, creator of the renowned Raidho range. As a result, they have much of the Raidho family DNA and pedigree but at a fraction of the cost - which makes for a superb marriage of price/performance.
Boerresen's initial designs for Scansonic's HD range were the first models in the MB-series (named with his own initials), closely followed by the astoundingly affordable M-series. The new active M BTL-series, comprising a stand-mount and two floorstanders, features wired analogue, digital and wireless aptX Bluetooth audio connections.
One of each pair of speakers features a built-in amplifier stage - but not the class D design that one might expect in this price range, since this has never been the Scansonic way (keep in mind the Raidho connection). Each of the three models in the M BTL-series sports a powerful class AB amplifier: 50W in the 2-way M-5 BTL stand-mount, 60W in the 2.5-way M-6 BTL floorstander and 80W in the 3-way M-9 BTL.
All three models are designed around the same ultra-light ribbon tweeter as used in the MB-series. Its membrane is formed by a kapton-aluminum sandwich just 20um thick and with an extremely low mass - approximately 50 times less than any conventional textile, ceramic, beryllium or diamond dome. This lower mass translates directly into higher resolution and less material coloration, the company says.
The tweeter is partnered with a paper-polypropylene 4.5-inch mid/bass cone driver (one in the M-5 BTL stand-mount and two in the M-6 BTL and M-9 BTL floorstanders) with an underhung voice coil. The M-9 BTL floorstander adds an 8-inch side-mount bass driver.
The cabinets feature a heavily braced, vented-box design with front-loaded port. Each loudspeaker pair comes with a learning remote control.
For more information: http://www.scansonic.dk/
---