Shure's KSE1500 electrostatic Sound Isolating earphone system.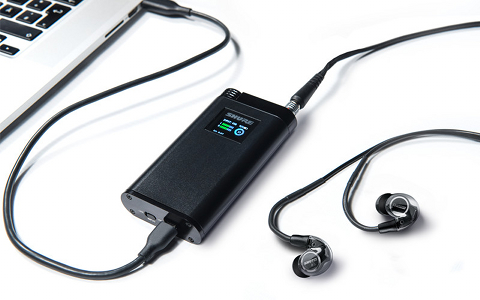 Source: Press Release, Last Accessed: 22/10/2015
The KSE1500 system features single-driver electrostatic Sound Isolating earphones matched to a USB digital-to-analog-converter (DAC) that processes audio from portable, digital (MAC, PC, iOS, Android) or analog audio sources.
According to the press release, the system is designed for discerning high-fidelity audio consumers who want to enhance their listening experience by achieving optimum performance from their current media players, smartphones, tablets, or computers. The first Sound Isolating earphones to feature electrostatic technology, the KSE1500 provides unmatched detail and clarity and customizable EQ for tone control—without sacrificing the mobility that portable devices provide. KSE1500 earphones are designed for exclusive operation with the KSE1500 Electrostatic Earphone System.
Shure has leveraged electrostatic technology within the KSE1500 system to develop drivers that host virtually weightless, mass-less diaphragms. This implementation results in the fastest transient response available, providing the most accurate sound reproduction with a wider frequency range than standard dynamic or armature driver technologies. Combined with a powerful portable DAC amplifier (via a six-pin LEMO connection), the KSE1500 provides listeners with the highest-fidelity portable audio experience available today, the company says. The system's amplifier DSP is able to process digital audio directly via micro-USB as well as analog via a direct line in. For purists, an analog signal can completely bypass the DSP for full analog audio amplification.
Adding to its lineup of attributes, the KSE1500 system features a high-resolution conversion rate of up to 24 bit/96 kHz and has been submitted to and verified by the Japan Audio Society (JAS) as qualified for the organization's "High-Resolution Audio" rating. Hosting five preset settings—flat, low boost, vocal boost, loudness, and de-essing— as well as four customizable user-defined equalizer settings, the KSE1500's four-band parametric equalizer provides the ability to customize frequency response based on user preferences. The system's intuitive graphic user interface provides streamlined menu navigation for quick and simple selections.
The KSE1500 Electrostatic Earphone System retails for $2,999.
For more information: http://www.shure.com/
---