Sonus Faber SF16: The first "all-in-one" project that makes you feel the connection.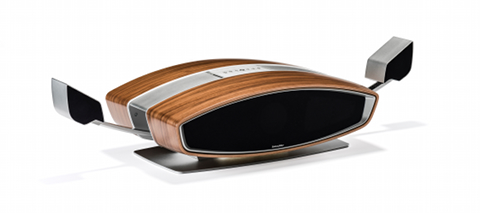 Source: Press Release, Last Accessed: 2016/09/09
SF16 is the first "all-in-one" integrated audio system that provides powerful performance, a truly easy installing mode and usability and, in the pure Sonus Faber style, is also an elegant piece of furniture with a deep luxury appeal. The challenge of SF16 has been to keep all the characteristics of a good Hi-Fi system, while reducing the size and the complexity of its elements; moreover, to create an up-to-date device that was as easy as a "plug and play" solution, capable of multi-room wireless streaming and -of course- with high fidelity sound quality; finally, the whole project had to result in an active and powerful "all-in-one" device, a complete Hi-Fi system that can actually "feel" the atmosphere of the room and can modulate its power and expression accordingly.
Solid wood cabinet and brushed aluminum are the main materials of SF16: the design provides a Seventies-like, yet cool look and feel that features the iconic Sonus Faber elements and also an innovative and futuristic appearance; thanks to the elegant and highly recognizable shapes and lines, SF16 belongs, without any doubt, to the great tradition of Sonus Faber design.
According to the press release, it took some time for the R&D Department to reach a balance that was capable of providing a Hi-Fi sound in such a small and compact product. SF16 is powered by Sonus' "Zero Vibration Transmission", "Sound Field Shaping" and "Stealth Reflex System" technologies, offering a very strong bass performance (thanks to the long throw, stiff Aluminum/Magnesium alloy cone), an accurate mid-high section for providing a wide and deep sound space and probably the smallest hi-end tweeter ever designed: the micro 1/2-inch by Peter Larsen. Midrange drivers and tweeters are doubled: half of them are front-firing, the others are placed on the back of the cabinet, enhancing the sense of depth of the soundstage. Amplifiers are ultra-compact, suitable for a four-channel configuration and can provide life-like and vivid dynamics, the company says.
The DTS Play-fi Technology gives the freedom and flexibility to wirelessly play the music on devices over an existing Wi-Fi network. The service is provided thanks to an app compatible with iOS, Windows and Android hardware. The source could be practically anything: smartphones and tablets, as well as traditional ones, such as turntables, because the app is 100% connected both to main online streaming services as well as to the local music library and features standard analog (RCA) and digital (S/PDIF coaxial and Toslink optical) inputs.
For more information: http://www.sonusfaber.com/
---