One Signature Sound - Sony pushes the boundaries with ultimate Signature Series audio range.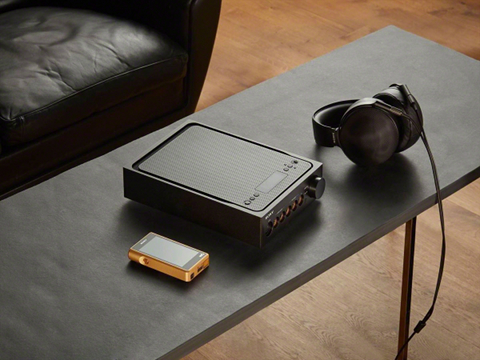 Source: Press Release, Last Accessed: 2016/09/01
Celebrating its 70th anniversary year, Sony has taken a look back at its prestigious audio heritage and, using the very latest technology, its design and engineering teams have created the Signature series, with High Resolution Audio capability and innovative convergence of superior analog and digital technologies. All Signature Series products are based on the newly standardized φ4.4mm balanced connection.
The MDR-Z1R headphones feature a 70mm HD driver and have a wide frequency range, being capable of up to 120kHz playback in high resolution audio. The new Fibonacci-patterned grill design is inspired by the Fibonacci sequence in nature and ensures minimal sound coloration and faithful reproduction of high resolution audio sources the company says.
The iconic Walkman is revamped for ultimate sound quality with the flagship WM1 series, including NW-WM1Z and NW-WM1A (with aluminum finish). The new players offer five modes that can be selected based on the type of music and can upscale lower bit rate files to near high resolution audio quality. The cable used inside the WM1Z is four wire braided cable engineered with Kimber Kable, while a newly developed FT CAP (High polymer capacitor) has been built into the power supply of the amp section.
The TA-ZH1ES headphone amplifier, offers a new standard for headphone amplifiers delivering high-res audio (up to DSD 22.4MHz/PCM 768kHz/32bit) and including the D.A. Hybrid Amplifier Circuit, a combination of Sony's full S-Master HX digital amplifier with an analog amplifier. The ZH1ES features a new DSEE HX and DSD Remastering Engine which converts all PCM streams to 11.2MHz DSD.
The Signature Series headphones and Walkmans will be available from October 2016 with the amplifier joining them from end of November.
For more information: http://www.sony.net/
---