Spendor's new D9 loudspeaker.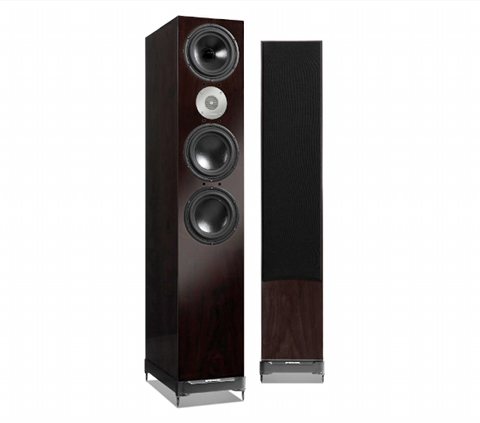 Source: Press Release, Last Accessed: 2016/10/19
The new Spendor D9 is an elegant, modern, full-size, 3-way, 4-driver, floor-standing loudspeaker with a tall slim enclosure and smart modern finishes which incorporates all the engineering innovation developed for the 3-way Spendor D7.
The Spendor LPZ tweeter, featured in the D9, is built around a stainless steel front plate which forms a damped acoustic chamber directly in front of a lightweight woven polyamide diaphragm. The front plate incorporates a phase correcting micro foil to equalise sound wave path lengths across the diaphragm surface. Simultaneously it generates a symmetrical pressure environment on both faces of the diaphragm so the tweeter always operates in a balanced linear mode.
The D9 mid-bass drive unit has an advanced EP77 polymer cone. Housed in an isolated enclosure at the top of the cabinet, it handles only mid-range frequencies which eliminates mid-low frequency intermodulation. The two D9 low frequency drivers have ultra-rigid, two part bonded, lightweight Kevlar composite cone assemblies. The bass drivers are in a large dedicated low-frequency enclosure. All three drivers feature cast magnesium alloy chassis, high efficiency motor systems, optimised electro-dynamic damping, and excellent thermal dissipation, the company says.
The enclosure is ported, featuring Spendor's Fifth Generation Linear Flow Port Technology which, according to the press release, offers significant advantages over any conventional port or transmission line loading. An aerodynamically profiled central baffle, like an aircraft wing, creates a tapered twin-venturi port. Air at the port extremities is smoothly decelerated and there is a further reduction in air velocity in the large tapered area at the cabinet base. The result is evenly balanced acoustic pressure and linear air-flow along the whole length of the port. Inside the D9 there is no low frequency damping, the sound path, from the bass drivers to the listening room, is totally unrestricted. This, according to Spendor, allows the D9 to be entirely free from damping material energy storage effects with clearly audible advantages.
Spendor D9 is offered in four standard finishes (light oak, dark walnut, cherry and black ash) and in four special finishes (Spendor Dark, Satin White, Dark Ebony and natural rosewood).
For more information: http://www.spendoraudio.com/
---