SP200: The new top-of-line Spendor Classic loudspeaker.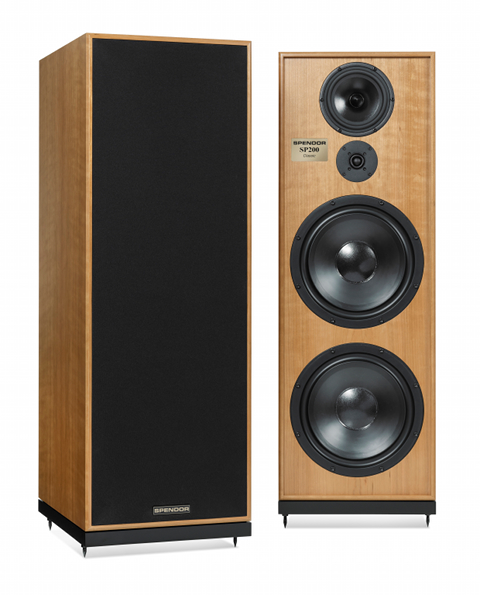 Source: Press Release, Last Accessed: 2016/02/03
The Spendor SP200 loudspeaker is an all-new top-of-line Spendor Classic, a 3-way system featuring two 12-inch woofers in an original Spendor 70's style floor-standing enclosure which can fill the largest listening rooms with deep natural sound.
For extended low frequency response, high power handling and minimal room interaction, the SP200 has a sealed (non-ported) enclosure with two specially engineered Spendor 12-inch woofers. The bextrene plastic woofer cones use the same cone profile and material as the legendary "big" Spendor BC3 Broadcast reference monitor, the company says. To cope with high pressure and extended excursion at low frequencies, the new SP200 woofers have Kevlar composite stabilizer domes bonded to the bextrene cones. According to the press release, the combination of a sealed enclosure and optimized woofers brings significant benefits at low frequencies. Extremely low group delay distortion preserves original "as recorded" musical timing. As there is no resonant port output, room positioning is far less critical than with a conventional ported loudspeaker. The SP200 has a new Spendor 18cm mid-range unit with EP77 polymer cone, cast magnesium alloy chassis, high efficiency motor system, optimized electro-dynamic damping, and excellent thermal dissipation. It delivers sound with a new level of clarity and dynamic range. High frequencies are handled by a 22mm wide-surround polyamide dome tweeter. In combination they deliver sound with outstanding coherence and definition over a wide deep listening area.
The cabinet is constructed with thin lightly braced panels attached to a rigid front baffle. Critically sized visco-elastic damping pads are bonded to each panel. At mid and high frequencies the cabinet produces virtually no audible movement, while at low frequencies the side panel are allowed to flex in harmony with the output from the woofers. According to Spendor, this subtle synchronized movement adds a captivating warmth and charm to any music, which many listeners find irresistible. Each mechanically damped base has four leveling feet attached via forged steel inserts to hold the cabinet steady.
The crossover network uses precision wound inductors and high-linearity plastic film capacitors and offers minimum phase alignment. SP200 offers an efficiency of 89dB and it is an easy to drive load, offering compatibility with all good amplifiers, from powerful solid state to the most esoteric tube designs.
For more information: http://www.spendoraudio.com/
---