Teac unveiled Micro Hi-Fi system with Hi-Res Audio capability.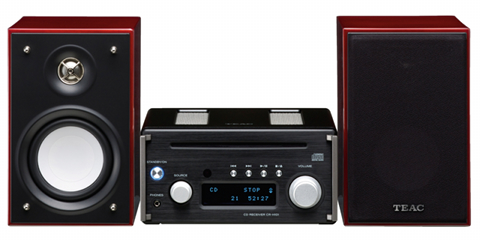 Source: Press Release, Last Accessed: 2016/04/12
The company tries to re-invent the micro Hi-Fi for the hi-res streaming age with the launch of its multi-talented Reference 101 component system. Available as a separate receiver or as part of a complete receiver/loudspeaker package, the CR-H101 CD Receiver measures just 182mm wide and so will fit into absolutely any domestic environment.
Hi-res streaming via USB is now a hugely popular way of listening to music and the CR-H101 will happily handle music of up to 24-bit/192kHz resolution. There are hi-res HR Audio Player apps for PC and Mac available for free download on Teac's website. For users who would rather stream wirelessly Teac has provided a high quality Bluetooth aptX receiver that will make the very most of audio content from suitably equipped computers and mobile devices.
For the d/a section, Teac uses the Burr-Brown PCM1795 chip, the same used in its costlier, high-end UD-501 DAC and there's also a slot-loading CD player, capable of handling MP3/WMA files on CD-R/RW discs. The DAC oversamples CD/USB/Bluetooth digital audio signals, with a sampling frequency of 96kHz or less, to 192kHz. In addition, the use of separate clocks for 44.1kHz and 48kHz-based signals keep unwanted digital jitter to a minimum.
The CR-H101 features an RDS FM tuner with 20 presets (there is also a DAB/FM variant – the CR-H101DAB – which offers an additional 10 DAB-only presets). There is a fully integrated clock/timer functionality so the CD and FM sections can be turned on (or off) at set times, ideal if the system is to be located in a bedroom. Teac included a loudness filter to enhance the sound quality in low level listening conditions. This is a clever DSP circuit that works directly on digital sources to deliver more impactful low and high frequencies when listening at low/medium volume levels. What's more, the system works with analogue signals (such as those from the tuner or external sources) by digitizing them as 24-bit/96kHz signals before passing them through the HR Loudness algorithm. The amplifier is a highly energy-efficient Class-D amplifier which delivers 2x20W of power (with a subwoofer output option for future expansion).
Last but not least, to ensure an ultra-rigid, vibration-free enclosure, the CR-H101 employs an impressive full-metal aluminum alloy body, using 3mm thick panels for the top and sides and a 5mm thick front panel.
To complement the CR-H101 Teac has also created a two-way, bass-reflex loudspeaker, the LS-101HR with an all-new 20mm PEI (Polyetherimide) balanced dome tweeter, designed to deliver signals up to 40kHz and a low-mass 70mm paper woofer. This has been equipped with a flexible rubber surround and a 70mm magnet to maximize low frequency performance. Both drive units are contained within a strong MDF enclosure that's finished off in high quality natural wood veneers.
For more information: http://www.teac.com/
---