Elara LN01A: Triangle's active, compact loudspeaker.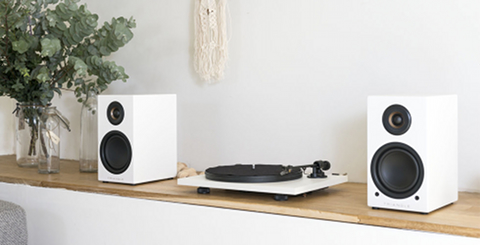 Source: Official website, Last Accessed: 016/11/29
With the Elara LN01A, Triangle offers an easy way to get involved with Hi-Fi and, indeed, it appears that playing music with high-fidelity sound has never been easier. The only thing the user needs to do, is to connect the speakers and enjoy his favorite songs from a smartphone, a vinyl turntable or any other source.
According to the details published, LN01A offers integrated Class-D amplification of 2x50 watts, providing impactful bass and the smooth, warm and detailed sound specific to Triangle loudspeakers. An EQ with control over low and high frequencies enables to adjust the LN01A according to listener's preferences and to the acoustics of the listening room.
Vinyl records are fashionable, which is a delight for the dedicated listeners as they offer "analog" sound and a timeless character. LN01A features a phono input to connect a vinyl turntable and bring vinyl records in the spotlight. The user can, also, connect a smartphone, a tablet or a computer via Bluetooth and get a high-fidelity sound through the aptX 4.0 codec that passes audio in CD quality (16 bit, 44.1kHz).
The loudspeakers offer an optical input to directly connect digital sources, including a TV-set, to enjoy movies with a high definition sound, and an active subwoofer output for an even better experience.
Finally, there is an analog RCA input and a 3.5mm input to connect CD/DVD players and any other line level output device, or a personal media player via its headphone output. The integrated phono input can be used with any type of cartridge. Elara LN01A features a minimalist design and refined details. When not reproducing audio, their elegance makes them blend seamlessly into any interior, Triangle says.
For more information: http://www.triangle-fr.com/
---