UHD Alliance defined Premium Home Entertainment experience.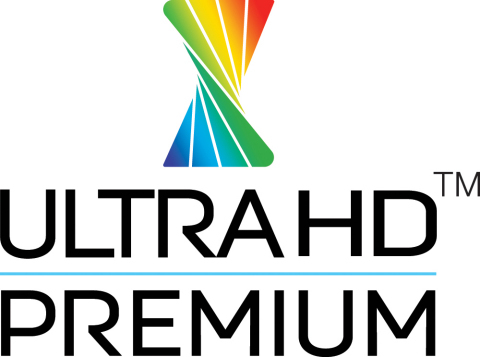 Source: Press Release, Last Accessed: 2016/01/04
Enjoying a premium, full-featured Ultra High Definition in-home experience has been simplified for consumers as the UHD Alliance (UHDA), the inter-industry group charged with fostering the Ultra HD ecosystem and promoting the benefits of Ultra HD entertainment technology, unveiled the consumer-facing "Ultra HD Premium" logo to identify devices, content and services capable of delivering a premium experience. Developed through the collaborative efforts of leading film studios, consumer electronics manufacturers, content distributors and technology companies, the Ultra HD Premium specifications reflect collective expertise from across the Ultra HD ecosystem, as well as significant input gleaned from experiential consumer testing.
The UHDA's Ultra HD Premium logo is reserved for products and services that comply with performance metrics for resolution, high dynamic range (HDR), peak luminance, black levels and wide color gamut among others. The specifications also make recommendations for immersive audio and other features. These advances in resolution, contrast, brightness, color and audio will enable certified displays and content to replicate the richness of life's sights and sounds and allow in-home viewers to more fully and accurately experience the content creator's vision.
To ensure products bearing the Ultra HD Premium logo are certified and conform to the organization's specifications, the UHDA has designated multiple, independent centers around the globe to handle testing. Companies throughout the ecosystem will work directly with these centers to have their products tested and certified.
The UHDA's new Ultra HD Premium specifications cover multiple display technologies and reference established industry standards and recommended practices from the Consumer Technology Association, the Society of Motion Picture and Television Engineers, the International Telecommunications Union and others.
Founded in January, 2015, the UHDA, has grown to more than 35 companies in two membership categories - Board and Contributor. In 2016, the UHDA will add a third member category, Adopter, for those who wish to license the Ultra HD Premium specifications. Collectively, the UHDA member companies say they will strive to lead the charge into this new era of home entertainment through advances in resolution, brightness, contrast, dynamic range, color and audio.
For more information: http://www.uhdalliance.org/
---