Petite but powerful: Vifa's Helsinki received the red dot design award 2016 for best product design.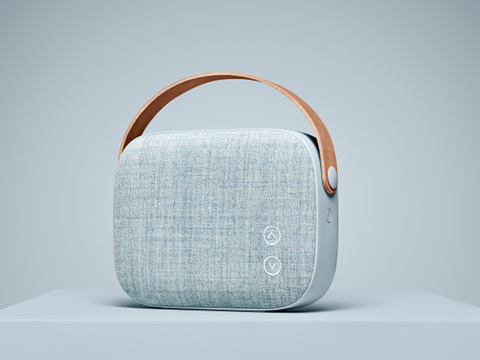 Source: Press Release, Last Accessed: 2016/03/30
Vifa's Helsinki, the portable wireless loudspeaker which was designed for women, received the prestigious red dot award 2016 for best product design. With its distinctive small, compact shape, it set new standards for the segment of small, portable loudspeakers.
According to the press release, the Helsinki design-process was driven by a specific demand. The loudspeaker should be state-of-the-art in terms of both looks and audio-quality, and it should appeal to a segment of younger women – without pushing away the male consumers. Therefore, benefits over features became the focal point for framing the product: Nordic, minimalist aesthetics mixing easily in to any interior, easy and intuitive interface, tactile experience through embroidered buttons and complete mobility in a product adapted for both indoors and outdoors use, thus acknowledging the nomadic existence of the younger consumer segments.
Helsinki features two customized 50mm Vifa full range drivers mounted in separate sealed enclosures, spaced apart as much as possible, angled slightly backwards and to the sides to satisfy optimal performance at various listening heights and maximum stereo width. Bass reproduction is handled by two 60mm customized Vifa woofers, mounted mechanically back to back in a force-balanced configuration to eliminate vibrations, while to further enhance the low frequency reproduction, two rectangular passive radiators with double silicone suspension are, also, used. The electronic part comprises of a digital pure path amplifier and a DSP crossover optimized for low distortion and high precision. Connectivity features include Bluetooth 4.0 aptX, AUX 3.5 mm mini-jack and NFC. A rechargeable Li-Ion battery offers several hours of playing.
The Helsinki has a lot of features in common with both Copenhagen and Stockholm products. The materials have been carefully chosen to convey the core value of true Nordic authenticity and include a special-designed, water-repellent, textile cover from Kvadrat, a leather strap from Swedish Leather manufacturer Tarnsjo Garveri and a solid aluminum frame, molded in one piece to avoid assembly marks or frail spots. Color-wise, Helsinki is available in a range of highly attractive shades: Willow Green, Misty Blue, Dusty Rose and Sandstone Grey.
Helsinki is available at Vifa's website and through selected dealers at a recommended retail price of €399 (incl. VAT).
For more information: http://www.vifa.dk/
---